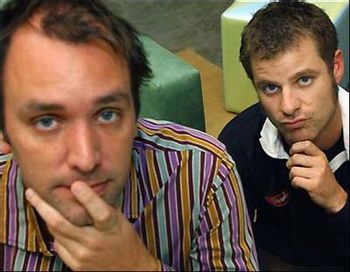 "Me and Matt love to argue, but in general our sense of humor is pretty much alike."
Trey Parker
"We are entertainers. We're trying to entertain people."
Matt Stone
Trey Parker (born Randolph Severn Parker III, October 19, 1969) and Matt Stone (born Matthew Richard Stone, May 26, 1971) are creative partners in crime, best known for being the creators of Comedy Central's long-running, brutally satirical, extremely vulgar animated sitcom South Park. The two became friends in college and made their first short, The Spirit of Christmas (aka Jesus vs. Frosty), that caught the eye of many and got South Park launched as the success it still is.
Creative works by the two include:
"Even If You Don't" music video by Ween
That's My Bush!, a live-action Comedy Central sitcom about George W. Bush's first year in office
Princessnote
They also record music for their various works backed by Bruce Howell, D. A. Young, and Nels Dielman under the rather vulgar name DVDAnote .
They also starred in BASEketball (a fact that they are NOT proud of), but didn't write or direct. Trey has also voiced the villain in Despicable Me 3, a very different turn from the duo's usual adult fare.
---
Tropes related to the creators:
---