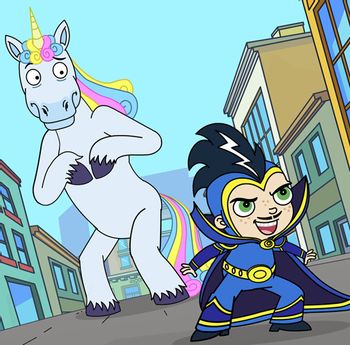 Dr. Dimensionpants is a Canadian animated television series created by Brad Peyton (director of such films as Cats & Dogs 2: Revenge of Kitty Galore and Journey 2: The Mysterious Island) and produced by DHX Media for Teletoon.
The series focuses on Kyle Lipton, a normal 12-year-old kid, until he is visited by a talking unicorn named Phillip, who gives him "The Dimensionpants". When he wears them, he becomes a superhero called Dr. Dimensionpants. Now Kyle has all the superhero powers he ever wanted, along with responsibility. With the help of Philip, Dr. Dimensionpants learns his powers to save the universe, while dealing with normal kid issues.
Interestingly, this is actually Peyton's second cartoon creation, his first being CBC's adult-oriented 2006 series What It's Like Being Alone.
The series ran from November 6, 2014 to September 22, 2015 for a single season of 26 episodes.
---
This series provides examples of: