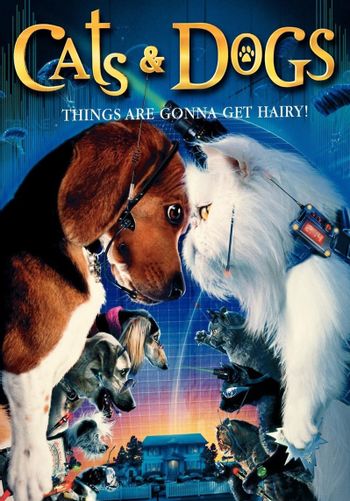 The quintessential Cats Are Mean movie, this 2001 action-comedy was directed by Lawrence Guterman and stars Jeff Goldblum, Elizabeth Perkins, and an All-Star Cast of animal voices.
The movie opens like a fairly standard comedy. A dog named Buddy chases a cat throughout a small suburb, causing havoc as they go. Things get weird when a truck pulls up in front of Buddy and he is captured by the many cats driving it. As soon as this happens, a call goes out to dogs around the world, letting them all know that their agent has been "cat-napped." So opens Cats & Dogs.
As it turns out, cats and dogs are a lot smarter and better organized than we humans think. Many of the world's dogs are actually members of an international secret organization dedicated to protecting their humans from the evil cats. Buddy was on a particularly vital case, protecting the Brody family, while Charles (Goldblum), the father of the household, finishes his formula to eliminate dog allergies. Obviously, the cats don't want that to happen, and so the Brody family needs constant protection, in the form of a dog agent disguised as the family pet.
The dogs plan to have a trained agent puppy take over Buddy's job, but a slip-up in the replacement of the dogs at the puppy farm causes a young civilian beagle, named Lou (Tobey Maguire), to become the Brodys' pet. It's now Lou's job to protect the family from the diabolical machinations of the evil, horrible, unspeakable feline mastermind known as... Mr. Tinkles (Sean Hayes).
A sequel to the movie was released July of 2010: Cats & Dogs: The Revenge of Kitty Galore. It increases the James Bond/Spy Film references and spoofs. It also retcons away the innate evilness of felines seen in the first film, establishing that there are heroic cats, they just tend to keep to themselves. Until now...
In September 2020, a third Cats & Dogs movie, titled Paws Unite! was released Direct to Video (outside of the UK and Australia, where it got a theatrical release). It follows new characters Gwen and Roger, and their formation of a squad of amateur spies to foil Pablo, a villainous cockatoo. It reduced the spy references and was noticeably Lighter and Softer than the previous films.
---
These films provide examples of:
open/close all folders
In General
Cats & Dogs
Cats & Dogs: The Revenge of Kitty Galore
Cats & Dogs 3: Paws Unite!
---