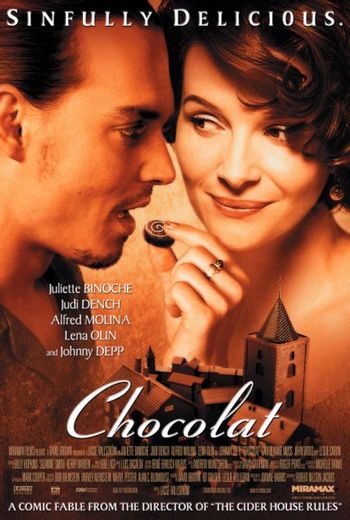 Chocolat is a 2000 British-American romantic comedy-drama film based on a novel by the same name by Joanne Harris, and was directed by Lasse Hallström.
Once upon a time, a European pharmacist/explorer fell in love with and married a South American woman who was destined from birth to move as the wind blows, sharing her "ancient cacao remedies" with unhappy people. He brought her to Europe, but she didn't stay with him, departing with her daughter to move from place to place with the "clever North wind."
Her daughter Vianne (Juliette Binoche), and her own daughter Anouk (who hopes to settle down someday) live this same lifestyle, and at the beginning of the film move into a stuffy French village run by the Comte de Reynaud (Alfred Molina), a man who has stricter moral standards than the local priest and holds everyone to them.
Using the secret recipes of her mother's people, Vianne opens a chocolaterie during Lent, earning the Comte's disapproval. Although at first, the townspeople give her a chilly reception, they slowly warm up to her as they are tempted by her fabulous concoctions. She convinces abused wife Josephine Muscat (Lena Olin) to leave her drunk husband Serge (Peter Stormare) and come work with her at the chocolaterie. She reunites young Luc Clairmont with his grandmother Armande (Judi Dench), a passionate and sarcastic woman deemed a bad influence by Luc's conservative mother, Caroline. Hidden passions left buried for years are brought to the surface with the help of the chocolate.
The Comte fears that Vianne is a threat to his control on the town and behaves accordingly, warning all the townspeople of the dangerous and evil nature of her chocolate. He spreads rumors about her atheism and liberal lifestyle, and even uses the local priest as a mouthpiece for his own ideas.
Conflict is further stirred up by the arrival of a group of Romani, led by the impetuous and handsome Roux (Johnny Depp). Vianne, recognizing fellow outcasts, is the only shop owner in the town not to "boycott immorality" and refuse them service. She and Armande even contrive to unite them with the more liberal members of the town during Armande's 70th birthday celebration.
Although she changes everyone else's lives in the process, Vianne herself is changed by the people she meets in the town, specifically Roux - with whom she develops a romantic relationship - Josephine, and Armande. Whether or not Vianne can overcome her wanderlust is as big a question as whether severity or joy will finally win out over the town.
Primarily remembered today as having been nominated for several Academy Awards, including Best Picture, in what commentators then and now regard as the most egregious example of Miramax Films' notorious Oscar campaigns; this resulted in a huge backlash that has dogged the film ever since. Based on a novel by Joanne Harris which apparently nobody reads, with all the Nightmare Fuel taken out. Leslie Caron has a small role as Madame Audel.
Not to be confused with the 2016 French film Chocolat
, which is about one of the earliest successful black entertainers in France. Also not to be confused with Chocolate, a Thai film about an autistic girl who goes after her ailing mother's debtors to pay for her chemotherapy.
---
Tropes in the Original Novel and sequels
Tropes in the Film
Actually Pretty Funny: When Vianne and Anouk first meet Roux, he's a bit gruff and refers to himself and the other boat people as "river rats". Anouk asks, with Innocent Inaccurate sincerity, asks if river rats are like pirates. Roux can't help but smile and say yes. He shows off his treasure: necklaces for sale.
Adaptational Heroism:

Vianne Rocher's mother. The book series at first hints, and later confirms, that

she kidnapped her neighbor's baby and traveled the world to run from her crime. Here, Vianne is legitimately her daughter and she committed no kidnapping

.
Francis Reynaud in the film. He greets Anouk and Vianne warmly before learning that neither is religious and that Vianne had Anouk out of wedlock, and is unaware of Muscat abusing his wife. The minute Vianne shows him Josephine's bruise, he gets angry at Muscat and forces him into confessional and to clean up his image. He also exiles Muscat for

burning down Roux's boat and nearly killing the people on board.

Caroline Clairmont in the books is a vapid Alpha Bitch that micromanages her son, ostracizes Josephine, and attempts to bully her mother into going into a nursing home. In the movie, she's more reasonable in reminding Luc that he's giving up chocolate for Lent and genuinely worries about her mother's condition.
Roux is much less abrasive here than he is in the book, though he remains a Deadpan Snarker. It helps that he has necklaces to sell rather than having to rely on others hiring him for labor and that the gypsies face less prejudice from the villagers. In addition, he doesn't fall for Vianne and Josephine at the same time.
Broken Bird: Josephine, who is escaping an abusive marriage.
Hollywood Atheist: Vianne to the villagers (given that she practices various traditional magics and is going to hold a fertility celebration on Easter, while Vianne is labeled an atheist she probably practices pagan-in a broad sense of the word-beliefs, though she would never label herself as such). To them, any person who just isn't a Catholic seems to qualify. Averted though as she never actually displays any of the traits (nor expresses what her beliefs are, besides them being clearly at odds with theirs).

Boy 1: I hear she's an atheist.

Boy 2: What's that?

Boy 1: ...I don't know.

Imaginary Friend: Anouk's kangaroo, Pantoufle,

who seems a little less imaginary at the end

was a way for her to cope with moving from place to place so much. He leaves when she doesn't need him anymore.
---