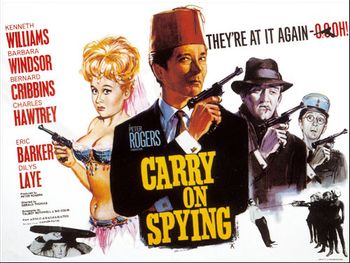 Charlie: Just now somebody tried to shoot me.
Desmond: Shoot you? Where?
Charlie: In the schnitzelstrausse.
Desmond
: Ooh, sounds like it might've been very
painful
.
— Agents Charlie Bind and Desmond Simpkins discussing an attempted shooting.
Carry On Spying is a 1963 film and the ninth Carry On film, a take on spy flicks (particularly James Bond) and Film Noir. It stars Kenneth Williams, Barbara Windsor (in her first film in the series), Bernard Cribbins, Charles Hawtrey, Eric Barker, and Dilys Laye. Notably this was the last black and white film in the series, and sparked much controversy during production between many film studios because of certain plotlines and names.
Although claimed to be a James Bond parody (and in at least some respects marketed as one), it mostly takes plot devices from The Third Man as well as other film noirs. It's the tale Agent Desmond Simpkins (Williams), and his trainees Agents Daphne Honeybutt (Windsor), Charlie Bind (Hawtrey), and Harold Crump (Cribbins) at a supposed Spy School being reluctantly recruited by the Chief (Barker) to go and search for a missing formula that is said to have been stolen by a villainous company called STENCH, or, the Society for the Total Extinction of Non-Conforming Humans.
Along the way, they meet master of disguise Carstairs (Jim Dale) and mysterious Lila (Laye), who both cause a stir in the story, especially upon the introduction of the Fat Man (Eric Pohlmann) and Dr. Crow (Judith Furse).
---
Tropes Included:
---