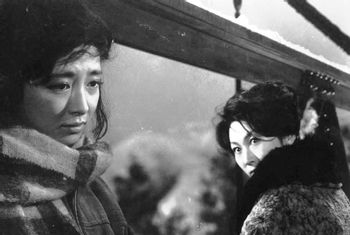 Zero Focus (ゼロの焦点) is a 1961 film from Japan, directed by Yoshitaro Nomura.
Teiko Okazaki has just gotten married to Kenichi Uhara, a businessman who has to travel frequently. Just a week after their wedding, he goes off on what is supposed to be a routine trip—but he never returns. No one knowns anything, and the police come up empty. One day at home, Teiko stumbles across two photographs in a book of her husband's that she can't account for. Determined to find out the truth, she looks into her husband's disappearance and discovers that he had a secret, second life that he hid from her. Among the characters she meets are Mr. Murota the businessman, who dealt with Kenichi, and Murota's pretty wife Sachiko. Teiko has a brief encounter with a receptionist named Hisako at Murota's company, an encounter that proves to be important. Teiko eventually uncovers a tangled web of dark secrets that date back to the American occupation of Japan after World War II.
Zero Focus is a Japanese take on Film Noir that also owes an obvious debt to the films of Alfred Hitchcock.
---
Tropes: