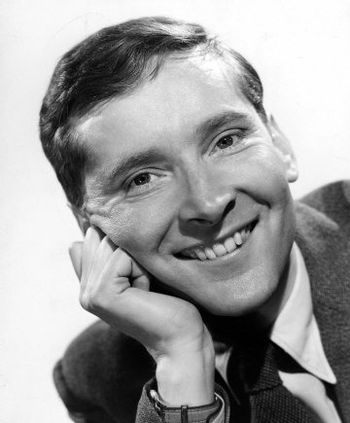 "Being nasty doesn't require intellect; any moron can be abusive. The distinguishing factor of great wit is to be nasty with style."
Kenneth Charles Williams (22 February 1926 — 15 April 1988) was an English actor, comedian and radio personality, mostly known for his 26 appearances in the Carry On film series, and several TV appearances.
He joined the army in World War II and entertained many of the soldiers, realizing he wanted to become an actor. He began in theater in his twenties, appearing in An Inspector Calls and The Importance of Being Earnest as well as other West End stage productions, before being picked up by Tony Hancock to be in Hancock's Half Hour alongside Hattie Jacques and Sid James to play characters in comedy sketches.
He also appeared in the Kenneth Horne-starring radio series Beyond Our Ken and its Spiritual Successor Round the Horne in which he played a variety of characters — including a camp man alongside Hugh Paddick, and was a fixture of the panel on Just a Minute from 1968 to his death twenty years later. In 1958, he appeared as a snobbish National Serviceman in a film project named Carry On, Sergeant, which went on to create the Carry On franchise, in which Williams appeared in the most films out of the entire recurring cast, portraying smug snakes and sophisticated middle-class characters.
Between the films, Williams continued to appear on television, radio and stage, also appearing as a guest star on many projects (such as Jackanory) in the media. He eventually gained his own television segment on the show An Audience With..., in which he performed stand-up and had celebrity guests. One of the last things he ever did was voice the characters of Willo the Wisp (1981).
However, behind the scenes, Williams was facing problems in his personal life. Upon realizing as a young man that he was homosexual, he spent most of his life resenting and hating himself, due to being raised Methodist Catholic. Then he began to become depressed and suicidal, eventually being found dead in his flat on April 15th 1988 after an overdose of antidepressants. Whether it was an accident or a suicide is debatable to this day. His diaries from his adulthood were collected up and published, and are loved by thousands of Kenneth Williams fans around the world.
---
Works on TV Tropes he appeared in:
Films
Series
---
---