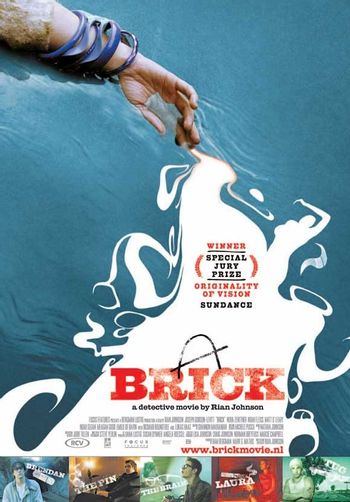 Brendan Frye: I can't let her go. I was set to, but I can't. I don't think I can.
The Brain: You think you can help her?
Brendan Frye: No.
The Brain: You think you can get the straight? Maybe break some deserving teeth?
Brendan Frye: Yeah. I think I could.
Take Film Noir, a generous dose of high school intrigue, a dash of David Lynch, and toss them all into a blender. What you get is probably going to be Brick. That, or charges for the murder of David Lynch.
A 2006 cult film written and directed by Rian Johnson, Brick tells the story of Brendan Frye (Joseph Gordon-Levitt), a teenage loner silently pining over his ex-girlfriend, Emily. When he gets a phone call from a panicked Emily, and finds her dead in a storm drain soon after, he goes on a one-man quest to bring her murderer(s) to justice, blowing the lid off of his high school's underworld of drugs and crimes in the process.
A defining element Brick adapts from its inspirations (such as the noir classic The Maltese Falcon) is its hard-boiled dialogue. Even though it takes place in the modern day, the characters in Brick all speak in an invented slang closely based on vernacular speech in the '20s, '30s, and '40s. The fact that traditional high school social cliques match surprisingly well with traditional noir archetypes is a certain plus as well.
---
This film provides examples of:
Adults Are Useless: Played straight. The only adults we ever see on screen are the Vice-Principal, who depends on Brendan to tell him what's going on, and the Pin's mom, who's either obedient or totally oblivious to her son's business or doesn't care. Laura's mom is there at the party, but we see just enough of her to make it clear that she's completely hands-off.
Affably Evil: The Pin. After having Tug pummel Brendan for information, The Pin rewards Brendan's co-operation by having his mom make breakfast.
Dumb Muscle: Tug is no thinker but beats up everyone he fights.
---