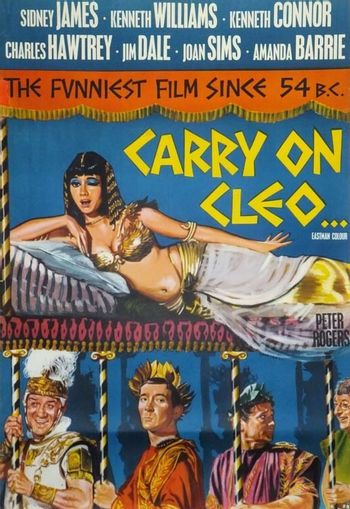 "Infamy! Infamy! They've all got it in for me!!"
This was Carry On... Series's take on the movie Cleopatra, with a fraction of its budget. It was released in late 1964, and is considered one of the best Carry On films (along with Carry On Camping and Carry On... Up the Khyber) out of the entire franchise. It stars series regulars Sidney James, Kenneth Williams, Joan Sims, Charles Hawtrey, Kenneth Connor and Jim Dale, and uses the old sets from the 20th Century Fox film. This film probably made more at the box office than the film it's parodying.
The movie was the tenth made in the Carry On series, during the "heydays" of the franchise, according to many fans. It takes some references from William Shakespeare's tragedies Julius Caesar and Antony and Cleopatra, as well as a few other quotes from his other plays. This film also contains a lot of Anachronism Stew, mostly to fit in with comedic tone of the series.
Carry On Cleo begins in Ancient Britain, in which a group of Stone Age citizens are enslaved by the Roman army. Two members of the capture are Horsa (Dale) and Hengist Pod (Connor), two neighbors that have just acknowledged each other minutes before.
After three years of settling down and conquering the British Isles, the exhausted Julius Caesar (Williams) and his army general Mark Antony (James) return to Rome, to be greeted by an angry crowd of citizens and Caesar's annoyed wife Calpurnia (Sims). Because of sheer stupidity, Ancient Rome becomes a part of a war between Ptolemy and Cleopatra, so Mark is sent to kill them both. After one sight of the beauty of Cleopatra (Amanda Barrie) coming out of her asses' milk bath and wrapping herself up in her dressing gown, he decides to not kill her and hatches a plan to end Caesar's reign.
Meanwhile, Horsa and Pod are bought at an auction by a battle-axed woman who lusts over their looks, so they decide to escape and hide in a temple for virginal women and eunuchs. Caesar, who is constantly tortured by Seneca's (Hawtrey) horoscope, visits the temple to get an accurate reading, followed by his mooks, who have been told to have him killed. In the conflict, the bodyguards are killed, Horsa escapes, and the confused Hengist is mistaken as the killer. Overcome with relief, Julius makes him his new Commandant and personal bodyguard.
Now Antony and Cleopatra's plan is ready to commence, giving Antony the excuse to have Caesar visit Egypt and discuss politics. The paranoid Caesar takes Commandant Pod along with him, grateful that he is far away from his wife yet again. Mutiny takes place on the ship, and Caesar's cabin is surrounded by sailors. This plan fails, much to Antony's annoyance, and the group arrives in Egypt. When waiting in his guestroom for further instructions, Caesar meets an oracle that shows him Cleo's actual intentions, which calls for a plan of their own for Caesar to find out what happens after the cliffhanger.
---
Tropes in the film:
---