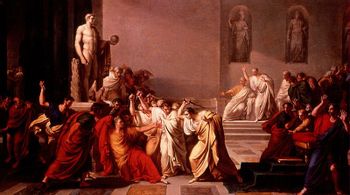 "Et tu, Brute? Then fall, Caesar."
One of William Shakespeare's tragedies, the play is his take on the assassination of Julius Caesar in Ancient Rome and its bloody aftermath.
The protagonist is Marcus Junius Brutus, a scrupulously honest, loyal and patriotic statesman, who is nonetheless drawn by his friend Caius Cassius into a plot to assassinate the increasingly powerful Caesar. Brutus is torn between his love for Julius Caesar and what he believes to be his duty to Rome. He is eventually moved to the act only by his love of the republic; other characters in the conspiracy have less spotless motivations.
Alternately, the protagonist is Marcus Brutus, a self-centered patrician whom Cassius flatters into betraying his former patron Caesar. Take your pick.
In either case, Brutus is intended to be the most sympathetic character in a cast of villains. The title character? An Ambitious Decoy Protagonist. His other closest friend, Mark Antony? Uses his oratory skills to help woo the crowds to handing Caesar power, and when it comes to Avenging the Villain he really gets nasty, all while acting the part of the Faux Affably Evil Villain with Good Publicity. Octavian/Octavius/Augustus Caesar? Just as ambitious as his dear old uncle, but even smarter, smart enough in fact to maintain his good publicity throughout the events of the play so that it takes a knowledge of what actually happened afterwards historically (or in Antony and Cleopatra) to realize his villainy. Our actual protagonist's other best friend, Cassius? The Resenter to Caesar's power who gets Brutus involved in the conspiracy in the first place by being a Manipulative Bastard, with plans to set himself up as The Man Behind the Man where Brutus is The Man whether he wants the job or not; in fact, the less Brutus actually wants the job the easier he thinks it will be. The rest of the conspirators all have their own selfish motivations as well. Oh and the rest of Rome? Anyone who isn't just a victim of one of the villains ends up in the mob formed by Mark Antony's speech due to their fickle nature.
Following the assassination, Rome is plunged into civil war, and a number of characters from the first several acts of the play die during the conflict, mostly through suicide.
The play was adapted to film several times. The most famous is the 1953 version, which starred Marlon Brando as Mark Antony, James Mason as Brutus, John Gielgud as Cassius, Greer Garson as Calpurnia, and Deborah Kerr as Portia. The 1970 version stars Charlton Heston as Mark Antony (reprising the role from a lower budget 1950 film version), Jason Robards as Brutus and Gielgud again, as Caesar this time around, among others.
The play factors heavily into the movie Me and Orson Welles.
For the man himself, see Julius Caesar.
---
Tropes:
---
Tropes found in adaptations:
---