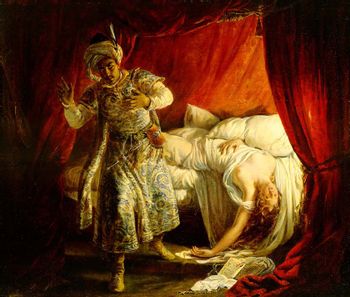 "O, beware, my lord, of jealousy!
It is the green eyed monster which doth mock
The meat it feeds on."
— Iago, Act III, Scene 3.
"She was pure, she was clean, she was virginal too
So why'd ya hafta go and make her face turn blue?"
Othello, The Moor of Venice is one of William Shakespeare's most famous plays. Adapted at least ten times for the screen (sometimes with setting changes), it is a play about racism (though not as we understand it today), trust, love, and betrayal.
In Venice, Othello, a Moorishnote a vague title that could apply to several groups of people prince and general in the Venetian army, has acquired two enemies. Roderigo, a man with considerable wealth, hates Othello for marrying Desdemona, an Italian noblewoman that he was interested in. Iago, an incredibly cruel fellow officer, hates Othello for promoting a young man named Michael Cassio over him. Iago convinces Roderigo to help him destroy Othello's life using Cassio as a patsy. But Roderigo underestimates how much Iago is willing to manipulate and backstab everyone to get his revenge.
One thing that must be said is that the play is, along with a lot of contemporary works, far Harsher in Hindsight. It was written over two centuries before the scientific classification of races and the development of racial hierarchies and stereotypes as we understand them today, not that today's understanding of the concept is quite the same. 'Race' is by no means a static, universal concept. That's not to say people didn't look down on people who weren't from their village, or their county, but people's worlds were much smaller back then, and stereotyping and discrimination were in all probability a local or inter-county thing at the time.
It's worth noting that in times past, it was usual for white actors to play Othello by way of Blackface, up to and past the 1960s, although Black actors have played the part occasionally since at least the 19th century. Thus, the early Othello movies have a white Othello. It is a case of post-facto Values Dissonance, but it does not make such portrayals inherently bad. As a Christian Moor, or part-Moor (as in, from Morocco, although that was a catch-all term to refer to any kind of Muslim - hence why the Muslims living in the southern Philippines are most commonly known as "Moros"), Othello could have been anything from a fair-skinned and blonde-haired Kabyle
◊ to quite dark, the phenotypical diversity of Morocco being what it is— but he was most likely some light to medium shade of brown, like
◊ most
◊ Moroccans.
We don't really know for sure. In his most recent portrayals he has been portrayed by very dark actors, and the "racism" angle—often using racial stereotypes as understood in the modern USA—has been played up considerably. This is even more severe of a Race Lift, as Morocco's predominantly Berber population (the most likely inspiration for Othello) is, in fact, caucasian, and someone in the Mediterranean Basin was unlikely to have ever even seen a Sub-Saharan African (bar Egypt's connection with modern Sudan) in the 16th century. What slaves there were in the 16th Century Mediterranean were predominantly Slavic peoples from eastern Europe, and if anyone was doing the slaving it was probably an Italian (specifically Genoan or Venetian), a Turk, or a Tatar. Racial characterisation of Sub-Saharan African peoples as inferior, the way we understand racism against them today, came after this period. A phenomenon largely, but not entirely, confined to the Americas it was a post-facto justification of sorts for the trans-Atlantic slave trade when it got going in earnest over a century later.
But like all of Shakespeare's plays, Othello provides fodder for a multitude of different readings, including those that impose 21st-century racial and gender conflicts over the action of the play. Othello, whether black, Berber, or what-have-you, is always the Other in Venetian society, and his story has still got a lot to say to us.
---
The play itself provides examples of:
Adaptations include:
An 1887 opera by Giuseppe Verdi

As well as more obscure operas by Rossini (1816, featuring an optional happy ending) and Daron Hagen (1999, retitled Bandanna, with Othello as the Mexican-born sheriff of a 1960's US border town)

Paul Robeson and James Earl Jones both made their names playing Othello in the theater, in the 50s-70s, with the latter following in the former's footsteps.
A 1951 film directed by and starring Orson Welles
A 1965 film starring Laurence Olivier (Othello), Maggie Smith in her Star-Making Role (Desdemona), with the film debuts of both Derek Jacobi (Cassio) and Michael Gambon (an extra)
A 1975 Exploitation Film Switchblade Sisters: Word of God is that the film's Big Bad, Patch, was based on Iago.
A 1981 BBC production starring Anthony Hopkins in the title role with Bob Hoskins as Iago. It was originally going to star James Earl Jones, but British Equity disapproved.
A 1986 film of the opera directed by Franco Zeffirelli and starring Placido Domingo and Renata Scotto
A 1995 version starring Kenneth Branagh, Laurence Fishburne, and Irene Jacob. Notable for being the first film adaptation to feature a black man as Othello. (Also notable for Othello's Shirtless Scene.)
A 1997 "photo negative" production by the Royal Shakespearean Society featured an all-black cast, with Patrick Stewart as Othello. With a stylish "fracture" skull tattoo to emphasize his martial prowess.
A 2001 film directed by Geoffrey Sax and starring Christopher Eccleston, Eamonn Walker, and Keeley Hawes, which moved the plot to modern England and changed everyone's names. The male protagonists are high-ranking police officers in the London Met.
A 2001 film entitled "O" (originally slated for 1998 release), directed by Tim Blake Nelson and starring Mekhi Phifer, Josh Hartnett, Andrew Keegan, and Julia Stiles. Updated to modern times and set at a prep school.
A 2006 Hindi film titled Omkara. The setting is updated to modern rural India, Othello changes from being a moor to a half-caste. Also Iago (named Langda (Hindi for limp) Tyagi because of his limp) is given a reason for trying to destroy Omkara's life although it's still Disproportionate Retribution.
A 2008 Malaysian film called "Jarum Halus", directed by first time director, 22-year-old Mark Tan. The film is set in modern-day Kuala Lumpur with Othello changed to a Chinese CEO called Daniel who works at a company dominated by Malays. Guess who he runs away with. It stars Razif Hashim, Christien New, Juliana Ibrahim, and Dato Rahim Razali.
The central love story was adapted into Harlem Duet by Canadian playwright Djanet Sears
A December 2016/January 2017 performance at the New York Theater Workshop directed by Sam Gold and starring David Oyelowo as Othello and Daniel Craig as Iago. Set in a modern-day military barracks.
---
Adaptations that don't have their own pages provide examples of:
---