As the play is Older Than Steam and most twists in Shakespeare's plots are now widely known, all spoilers on this page are unmarked.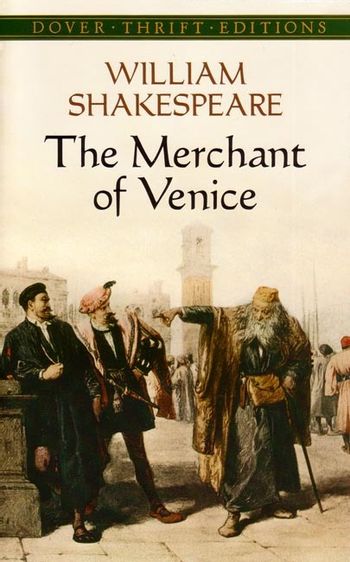 I am a Jew! Hath not a Jew eyes? Hath not a Jew hands, organs, dimensions, senses, affections, passions; fed with the same food, hurt with the same weapons, subject to the same diseases, heal'd by the same means, warm'd and cool'd by the same winter and summer, as a Christian is? If you prick us, do we not bleed? If you tickle us, do we not laugh? If you poison us, do we not die? And if you wrong us, shall we not revenge?
— Shylock, 3.1.58-67
The most excellent Historie of the Merchant of Venice. With the extreame crueltie of Shylocke the Iewe towards the sayd Merchant, in cutting a iust pound of his flesh: and the obtayning of Portia by the choyse of three chests is a play by William Shakespeare, believed to be written between 1596 and 1598. It is one of his most controversial, owing to its treatment of Judaism and antisemitism in Venetian society.
Bassanio is of noble blood, but has spent all his money and is deeply in debt. His solution is to marry wealthy heiress Portia, whom he has visited before and wooed successfully. But his suit itself will require substantial funds, so he approaches his close friend Antonio, the eponymous merchant, who has lent him money in the past.
Antonio's wares are out at sea, and he has no money on hand. But he's devoted to Bassanio and is eager to lend him anything he can get, and plans to use his reliable reputation to borrow money somewhere else. Bassanio finds Shylock, a wealthy Jewish moneylender.
Shylock hates Antonio, partly for being a Christian, but mainly because Antonio publicly insults him and spits on him for being a usurer. So he agrees to the loan, and won't even charge interest—but if the debt isn't repaid by the specified date, he gets a pound of Antonio's flesh. Antonio's ships are set to return a full month before the money is due, so, despite Bassanio's entreaties not to, he signs the bond in a combination of antagonism, suicidal bravado, and desire to prove his devotion to Bassanio.
Bassanio returns to Belmont to woo Portia, but he's got to get in line; half the single men in Europe want to marry her. Her father's will decrees that her suitors must choose from three caskets: one silver, one gold and one lead, as a test of character. The princes of Morocco and Aragon choose the first two and are sent away unhappy. Bassanio chooses the lead one, which is of course right. All is happiness as Portia agrees to marry him right away.
But during the celebrations, Bassanio receives a letter from Antonio: all his ships have been wrecked, leaving him unable to repay the loan. To make matters worse, Shylock's daughter Jessica has eloped with Bassanio's (Christian) friend Lorenzo, and taken most of her father's money with her—so Shylock is royally pissed off and out for revenge. Antonio has been arrested and awaits his trial.
Seeing Bassanio's grief at Antonio's plight, and impressed by the deep love between the two, Portia insists that her new husband return to Venice with three times the value of the bond (from Portia's inheritance) in the hope of dissuading Shylock. Unbeknownst to Bassanio, she follows him to Venice and disguises herself as a young male lawyer to aid in Antonio's trial...
The Merchant of Venice is officially classed as a comedy. While during its original production it would have been seen as pretty funny (with a pantomime Jew as a villain who gets his comeuppance in the end), it was a comedy in the classic sense of having a happy ending, rather than the more modern humourous one. These days, it tends to be played and interpreted more as a straight drama, focusing on the antisemitic prejudices against Shylock.
---
Tropes in The Merchant of Venice:
---