As the play is Older Than Steam and most twists in Shakespeare's plots are now widely known, all spoilers on this page are unmarked.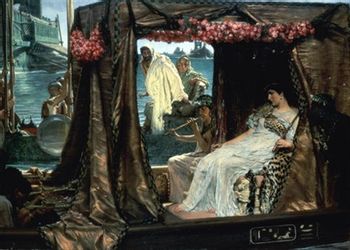 Age cannot wither her, nor custom stale
Her infinite variety.
— Enobarbus, on Cleopatra 2.2.244
A Roman tragedy by William Shakespeare. It can be viewed as a sequel to Julius Caesar, since Caesar, and his assassins, are repeatedly alluded to in the play. Thematically it can be seen as a counterpoint to Romeo and Juliet, contrasting the naive young lovers of the earlier play with the older, more experienced lovers here. Shakespeare's source for the play was Thomas North's
1579 translation of Parallel Lives and the play is essentially an adaptation of it, adapting dialogues, scenes, and entire descriptions from it, almost word-for-word.
The play focuses on the fall of Mark Antony, a Roman general, as he is seduced by Egyptian queen Cleopatra VII. Antony spends much of the play ignoring his duties as a general to Rome, while living it up in Alexandria with Cleo. Octavian Caesar, nephew of Julius, is unhappy with this, because Rome is involved in a war with Pompey and could really use Antony's help, but he's also shrewd because this gives him a window into finally offing his fellow triumvirs (Antony, Lepidus) and become Emperor. Antony leaves Alexandria for Rome, not realizing Octavius envies his power and plots to overthrow him when the war is over. Meanwhile, Cleopatra pines for Antony in his absence. Events then unfold, as Antony and Octavian Caesar fall out, and a Civil War brews over who will be the single master of the Empire, with the independence of Egypt hanging in balance.
The story is set in both Rome and Alexandria, and jumps from location to location constantly. It includes a battle at sea, cross-dressing, drunken reveling, a eunuch, and a very poignant suicide attempt which is interrupted by a clown. One of the most memorable aspects of the play is Cleopatra; she's considered the most complex female character in the Shakespeare canon, and she's certainly the most emotionally extreme.
---
Tropes
---