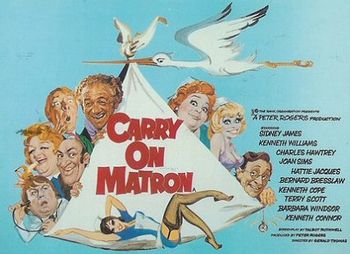 Carry On Matron is a British film from the Carry On series and was released in 1972. It stars regulars Sid James, Joan Sims, Kenneth Williams, Kenneth Cope, Kenneth Connor, Bernard Bresslaw, Bill Maynard, Hattie Jacques, Barbara Windsor, Terry Scott (in his last film in the series) and Charles Hawtrey. Being the fourth Carry On that's set in a hospital, it's amazing that none of the critics claimed it was another sequel to Carry On Doctor, but that might've been because Jim Dale wasn't in it.
Instead, the movie focuses on a gang of thieves, led by Sid Carter (James) and including his cohorts Ernie Bragg (Bresslaw) and Freddy (Maynard) trying to steal medicine from a maternity hospital run by Sir Bernard (Williams) and the Matron (Jacques), as well as the horny Dr Prodd (Scott) and Dr Goode (Hawtrey). The thieves manage to smuggle in Sid's son Cyril (Cope) to pose as an intern nurse who shares a room with nurse Susan Ball (Windsor).
There's also expecting couple Mr and Mrs Tidey (Connor and Sims), who have been waiting for almost a month for the baby to be born. This has caused the wife to binge-eat.
For the other Carry On films that are hospital-based, see Carry On Nurse, Carry On Doctor and Carry On Again, Doctor.
---
Tropes Included:
---