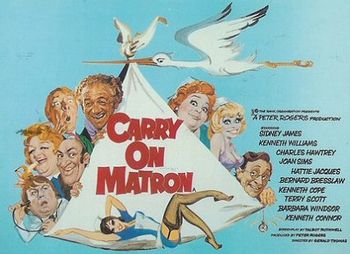 Freddy: What are we looking for?
Sid: Oh, knickers!
Freddy
: Here Sid, I found 'em.
— Freddy telling Sid Carter that he's found a pair of Matron's over-sized knickers during their heist.
Carry On Matron is the 23rd film in the Carry On series and was released in 1972. It stars Sid James, Kenneth Williams, Charles Hawtrey, Joan Sims, Hattie Jacques, Bernard Bresslaw, Kenneth Cope, Terry Scott (in his last film in the series), Barbara Windsor, and Kenneth Connor.
Matron focuses on a gang of thieves, led by Sid Carter (James) and including his cohorts Ernie Bragg (Bresslaw) and Freddy (Bill Maynard) trying to steal contraceptive pills from the Finisham Maternity Hospital run by the Hypochondriac Sir Bernard Cutting (Williams). The thieves manage to smuggle in Sid's reluctant son Cyril (Cope) disguised as "Cyrille", a student nurse who shares a room with (and begins to catch feelings for) Nurse Susan Ball (Windsor), who warns Cyrille to look out for the horny Dr. Prodd (Scott), who prowls after nurses. Naturally, Cyrille is planned to be his newest conquest.
Sid's plans to rob the hospital aren't foolproof however, as the no-nonsense Matron (Jacques) begins to gain suspicions over recent developments at the hospital. Sir Bernard then begins to gain feelings for Matron, but making progress at courting her is made difficult by him believing he is turning into a woman before accusing the clueless Dr. Francis A. Goode (Hawtrey) of having an affair with her.
Matron and Sister (Jacki Piper) try to keep the patients happy despite all the shenanigans amongst the staff, but have trouble with expecting couple Mr. and Mrs. Tidey (Connor and Sims), who have been waiting for three weeks for the baby to be born. Mrs. Tidey is treating her stay as a holiday and won't stop binge-eating, while her railway worker husband is left forever racing between his trains and the waiting room.
The final issue with Sid's plans is that Cyril seems unable to keep a low profile, and after becoming a sensation for single-handedly delivering the triplets of film star Jane Darling (Valerie Leon), Sid and his gang have to strike while the iron is hot and don disguises of their own to pull off their heist before it is too late as Hilarity Ensues.
For the other Carry On films that are hospital-based, see Carry On Nurse, Carry On Doctor and Carry On Again Doctor.
---
Tropes Included:
Accidental Misnaming: A Deleted Scene saw Dr. Goode get Mrs. Putzova's name wrong:

Mrs. Putzova: It's not "Pushover", it's "Putzova". Russian, you know.

A-Cup Angst: Dr. Prodd finds the rolled up socks in Cyril (disguised as the female Cyrille) and assumes she's stuffing her bra.
Alliterative Name: Cyril Carter, and his name when disguised as a nurse Cyrille Carter.
All Men Are Perverts: Dr. Prodd tries to sleep with every attractive female patient or nurse that turns up at Finisham Maternity Hospital.
All There in the Script:

We don't get to know Ernie's last name or Mrs. Kemp and Miss Banks' first names in the film, but they are given as "Bragg", "Frances" and "Evelyn" respectively in cast lists.
Also Inverted, as Alan Harris' character gets called Dick by the reporter, by cast lists just have him as "Photographer".

Ambiguously Jewish: Sir Bernard is a worrying hypochondriac and is even nicknamed "the old Rabbi" by Dr. Prodd.
Apron Matron: Matron, as in the previous medical Carry On films, is physically imposing and a tough, no-nonsense boss to the nursing staff, but she is also very defensive of them, particularly against the lecherous advances of Dr. Prodd.
As Long as It Sounds Foreign: When disguised as Dr. Zhivago, Sid strings together several different languages.

Sid: Ah, si. Si. Grathias, mademoiselle. Grathias. Enchanté.

Attempted Rape: Dr. Prodd tries to flirt with the disguised Cyril throughout the movie, but then just jumps at him when he has the chance. Luckily, Cyril manages to escape unscathed, leaving a disheveled Dr. Prodd to mumble to himself.

Dr. Prodd: God, what a woman!

Attractive Bent-Gender: Both Freddy and Ernie are attracted to Cyril as Cyrille and when he arrives at Finisham Maternity Hospital in disguise, he immediately attracts the attention of the lecherous Dr. Prodd, who won't take "no" for an answer.

Nurse Ball: You know, you're really quite dishy.

Cyril: I bet you say that to all the female impersonators.

Baby Talk: Sir Bernard uses some when he misunderstands Matron while flirting with her.

Matron: Certainly not! It's just that I'm a simple woman with simple tastes and I want to be wooed!

Sir Bernard: Ooh, you can be as "wude" as you like with me!

Bait-and-Switch: One of Dr. Prodd's patients, Mrs. Tucker, has previously been to see him to explain that she's not sure if her new 88-year-old husband is able to impregnate her. Dr. Prodd suggested at the time that she take in a lodger nearer to her own age to improve her chances, leading to this exchange:

Mrs. Tucker: Well it worked. I'm pregnant.

Dr. Prodd

:

Really

? (

Beat

) What about your husband?

Mrs. Tucker: Oh he's tickled pink!

Dr. Prodd

: Oh, that's alright then. (

Beat

) What about the lodger?

Mrs. Tucker: Well that's the trouble. She's pregnant too.

Bathtub Scene: As Sid flees from Cyril's room down the fire escape, he hops through a window and runs past a nurse in the bath. Matron and Cyril race through too, and Cyril lands in the bath when he slips on a bar of soap.

Sid: Shh! It's alright, don't scream.

Nurse in Bath: What do you want?

Sid: Well that's very nice o' you, but I haven't got the time.

Big Eater: Mrs. Tidey is expecting a three-week overdue baby and is in no real hurry to give birth because she sees her stay at Finisham Maternity Hospital as an excuse to gorge herself on a seemingly endless banquet of hospital food.

Matron: All right Sister, take her to Delivery.

Sister: Yes Matron.

Mrs. Tidey: Ooh oh, but, but, but let, let me finish, finish me dinner first.

Blatant Lies: When Freddy and Sid are caught hiding in Matron's room by Matron and Sir Bernard, Freddy lies that he was looking under the bed for the gas meter, and Sid claims to be in the wardrobe to be checking for woodworm. Sir Bernard and Matron briefly believe them, then give chase the second they realise that they are trespassing.
Bookends: The film begins and ends with Sid planning a heist while in a car with his gang.
Bound and Gagged: Dr. Prodd is knocked out, tied up, gagged and left in an ambulance.
Breaking the Fourth Wall: One planned ending for the film had Dr. Goode looking at the camera and saying "I do love happy endings, don't you?".
Brief Accent Imitation: Sid uses a German accent when disguised as Dr. Zhivago, but uses several different languages in his words when he speaks.
Brotherhood of Funny Hats: Sir Bernard is about to thrash Dr. Goode over their perceived shared affection for Matron ... until it emerges that they are both members of the Grand Order of Newts (Sir Bernard in the Watford pond, Dr. Goode in the Wapping pond), whereupon they begin reciting the Newts' loyalty oath in unison. Unusually for a fraternal order, a remark of Sir Bernard's to Matron implies that the Newts admit female members.
Buxom Is Better: When the gang sees Cyril in disguise for the first time, Freddy and Ernie suggest they fill up his chest a bit more but defied by Sid when he reminds them that the point is for Cyril to go unnoticed.

Sid: If you make 'em any bigger, everybody's gonna start gawpin', don' they?

The Cameo:

Jack Douglas in a one-line scene as a twitching father.
Series regular Patsy Rowlands has two small appearances as Miss Banks, Sir Bernard's secretary.

Camera Abuse: When Sir Bernard uses a fire extinguisher to put out the fire in Matron's wardrobe, he sprays foam all over the camera.
The Caper: Sid and his gang of thieves plan to make their fortune by stealing a shipment of contraceptive pills from Finisham Maternity Hospital to sell abroad. They assume disguises and infiltrate the hospital, but nothings goes according to plan, and they end up being chased through the hospital by a large group of expectant mothers.
Car Meets House: When Dr. Prodd comes to after being knocked out and Bound and Gagged in an ambulance by Sid's gang before the robbery, he struggles to free himself and accidentally starts the ambulance, which plows through the entrance of Finisham Maternity Hospital and demolishes the reception desk before finally coming to a stop.
The Casanova:

Dr. Prodd chases after anything in a skirt (including the unfortunate Cyril). As his first scene with Nurse Ball demonstrates - she brings him a patient's urine sample, he jokes that she can't tempt him with strong drink, she notes that she said that to him when they first met, he says he'll get her eventually - rebuffing his advances just makes him try harder, and once he's made a sexual conquest (and put a framed photo of the girl in question on his bedroom wall), he moves on to the next one. When we last see him, he is in the background at

Sir Bernard and Matron's wedding

, chatting up a young nurse.
Mr. Darling is seen waving his wife Jane off in the ambulance, and then rushing back into their mansion to join the au pair girl now that they are alone.

Character Name Alias: Dr. Zhivago is used by Sid so he can infiltrate Finisham Maternity Hospital.
Clothing Damage:

Cyril has to swap his black lace knickers for men's underwear after he splits them.
When Sir Bernard is about to give Dr. Goode a damn good thrashing for being his perceived rival for Matron's affections, his secretary, Evelyn Banks (Patsy Rowlands),note tries to get between them. Sir Bernard ends up ripping her dress off in trying to get her out of the way, and she quickly flees the room with what's left of it.

Cloudcuckoolander:

Dr. Goode, as per the norm for a character played by Charles Hawtrey. Upon being introduced, he is seen hypnotizing himself.
Ernie has a rather loose grip on reality. When Sid's gang go in for the pill heist, Ernie is disguised as a pregnant woman (his "baby" is really explosives and other burglary equipment) and keeps forgetting that he isn't (and, indeed, biologically cannot be) actually pregnant, asking what happens if he goes into labour while Sid and Freddy are looking for the storeroom key.

Ernie: It just shows ya the power o' suggestion.

Sid: What are you talkin' about?

Ernie: Well, I coulda sworn I felt it kickin' jus' then.

Comedic Underwear Exposure:

Cyril trips on the stairs and Nurse Ball gets a good view of his boxers.
During Sir Bernard and Dr. Goode's fight, Miss Banks gets caught in the middle and loses her dress to reveal her underwear.

Covered in Gunge: Dr. Goode gets covered in fire extinguisher foam after Sir Bernard attempts to put out the fire in Matron's wardrobe.
Crying Wolf: Mrs. Tidey has a baby three weeks overdue waiting inside her. She binge-eats while she waits, leading to her calling out that her waters have broke, when it turns out to be wind or indigestion.
Derailed Train of Thought: As Sid, Freddy, and Ernie are looking over the plans for Finisham Maternity Hospital, they fall into a collective case of this trope. When Sid explains that the pills are in the basement of the hospital, Ernie asks where the babies are, and a frustrated Sid tells him they're in the wards. Ernie explains that it's not as obvious as Sid thinks as he was born on the top deck of a Number 73 bus in Brixton High Street. Freddy argues that Number 73 goes from Marble Arch to Putney and Wimbledon, not to Brixton at all, and when Sid tries to get things back on track, he pauses mid-sentence and then says they're both wrong, Number 73 goes to Holloway - and he should know, as his wife did at least one stretch in the women's prison there, and he used to take that bus to visit her.
Disguised in Drag:

Cyril reluctantly dresses up as a student nurse ("Cyrille") to get closer to the medicine cupboard.
Ernie takes on the look of Mrs. Foggett, an expectant mother, on the night of the heist.

Does This Remind You of Anything?: As Mrs. Pullitt worries about her baby boy's bent "thing", Mrs. Tidey's sausage breaks in half on her fork as a springy sound effect plays.
Double Standard: Rape, Male on Male: Cyril, who has infiltrated Finisham Maternity Hospital disguised as a female nurse, is continually pursued by Dr. Prodd, who goes as far as locking "her" in a room, ignoring "her" screams and making "her" aware that he "was a boxing champion at university". Furthermore, the scene turns out like it would be fairly funny even if the victim really were female. note
Dragged into Drag:

Cyril is made to dress up as a student nurse, getting him unwanted attention from the randy Dr. Prodd.
Ernie is forced to dress up as the pregnant Mrs. Foggett during the hiest.

Either/Or Title: Carry On Matron or From Here to Maternity or Familiarity Breeds or Womb at the Top or The Preggers Opera.
Everyone Calls Him "Barkeep": Although she has a name tag that is too small to read, Hattie Jacques' character is only known as Matron.
Fictional Document: Several of Sir Bernard's books.

Metamorphosis - A Study of the Sex Change in Man, which he consults when he believes he's becoming a woman.
Sex Techniques, which he uses when he wants to get more intimate with Matron.
The Psychology of Jealousy, which he reads after believing Matron is having it off with Dr. Goode.

Friend in the Black Market: Sid, who intends to sell the contraceptive pills on the black market abroad where they can't be obtained any other way.
Freeze-Frame Bonus:

The author of Metamorphosis - A Study of the Sex Change in Man is shown for a second to be Professor Axel Greese.
The Sister is briefly visible on Dr. Prodd's wall of conquests.

Fun with Acronyms: Dr. Goode's initials are F.A.G. (amusingly enough he was played by the Camp Gay Charles Hawtrey).
Gasshole: Played With by Mrs. Tidey; she only burps the one time in the film, but it's referenced in her first appearance that almost all of her apparent contractions in the last three weeks had turned out to be bouts of gas, when they weren't attacks of indigestion. Justified in that she's eating constantly; no wonder she's bloated and gassy.
Gender Bender: Sir Bernard spends much of the movie worrying he's becoming a woman.

Sir Bernard: Have you known, of a case, of a man... turning into a woman?

Dr. Goode: No? But I've heard of one who turned into a one-way street!
---