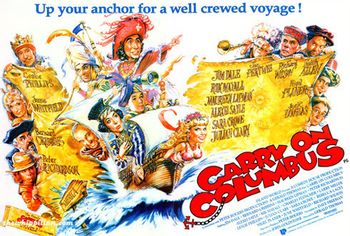 Carry On Columbus is a 1992 British film, which hoped to revive the popular Carry On film series from The '50s-The '70s (this was the 31st film in the series, and the first since 1978) with a comic celebration of the 500th anniversary of Christopher Columbus' first transatlantic voyage. Loads of fans were hesitant over the outcome of the film when it was first announced, due to being "screwed over" with the last two failures from the mid-70's.
It was obvious to everyone that no one they recognised would be coming back. Most of the regulars at this point were either dead or too busy: Sid James, Peter Butterworth, and Hattie Jacques had died of heart attacks in 1976, 1979, and 1980 respectively, Kenneth Williams died of a drug overdose in 1988, Charles Hawtrey had been fired (but he had returned when he was fired once before) and then died of peripheral vascular disease in 1988, Terry Scott had departed after Carry On Matron and was terminally ill with cancer, Barbara Windsor was a regular on EastEnders, Bernard Bresslaw had left after Carry On Behind and was appearing in bit parts on television, Kenneth Connor was a regular on 'Allo 'Allo!, and Joan Sims was a regular on On the Up. (The ones that were alive at the time were considered, but Windsor and Connor openly called the script crap and the others were, as said before, unavailable.)
So who could they get?
Recurring cast members that appeared in less than 15 films, of course! As well as a bunch of popular TV actors that divided the fans' opinions.
Jim Dale stars as the titular Columbus who convinces King Ferdinand and Queen Isabella of Spain (Leslie Phillips and June Whitfield) to fund his journey to explore the Eastern world. However, the Sultan of Turkey (Rik Mayall), who makes a great deal of money through taxing the merchants who have to pass through his country on the current route, sends his best spy, Fatima (Sara Crowe), to wreck the trip.
---
Tropes included are:
Self-Plagiarism: Writer Dave Freeman had only ten days notice to deliver a script before the start of filming. With shortness of time, he re-used some material from his rarely seen TV special Carry on Again Christmas.
Title Drop: The last line of the film.

Fatima: Carry on, Columbus.
---