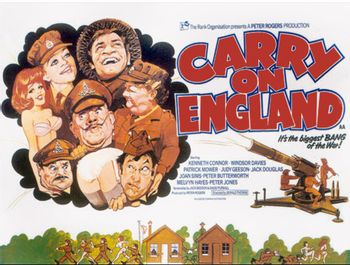 Sergeant Major Bloomer: This is one of these new... mixed batteries.
Captain Melly: So... that's what the Brigadier meant when he said that this battery was "an experiment".
Sergeant Major Bloomer
: "H'experiment", sir? They does not need to experiment! They gets at it right away, and all the time.
— Sergeant Major "Tiger" Bloomer explaining 13-13 Experimental Battery to Captain S. Melly.
Carry On England is a Carry On film from 1976 and the 28th overall. It starred Kenneth Connor, Windsor Davies, Judy Geeson, Patrick Mower, Jack Douglas, Joan Sims, Melvyn Hayes, Peter Butterworth, and Peter Jones.
Captain S. Melly (Connor) is put in charge of 13-13 Experimental Battery during the darkest days of World War II. It's a relief for Captain Bull (David Lodge) and Sergeant Major "Tiger" Bloomer (Davies), who have to put up with the antics of Sergeants Leonard Able (Mower) and Tilly Willing (Geeson), Bombardier Ready (Douglas), and the rest of the troops who follow their sexual antics in suit. Private Alice Easy (Diane Langton) tries to charm her commanding officer, Private Jennifer Ffoukes-Sharpe (Sims) tries to flirt with hers, and Gunner Shorthouse (Hayes) tries to get anyone he can. Despite the efforts of medical officer Major Butcher (Julian Holloway), rigorous training and a barbed wire chastity fence, the platoon is still a shambling shower.
This doesn't help the army one bit, seeing how the army could be unprepared for a surprise ambush, after an inspection by the wisecracking Brigadier (Jones) and toadying Major Carstairs (Butterworth) is interrupted by an airborne attack.
It caused controversy before it was released in theaters, being one of the first Carry On films that had explicit nudity on screen and had suggestive dialogue,note (such as the Deleted Scene of the characters commenting on the "fokker" plane in the way how you'd expect it to be used) which angered the censors to the point of Executive Meddling. This led to the BBFC certifying the movie as "suitable for fourteen and over", which was unfortunate because most of the target audience were in that age range. Even though that would slightly jab at the viewings in the box-office, the film was poorly received commercially to the point of being removed from theaters after three days. To this day, at least 99% of fans around the world speak negatively of the movie. The explicit nudity was not the way of the Carry On movies and sex was treated with ambiguity, whereas many saw this movie as just another example of the Awful British Sex Comedy that was becoming popular at the time.
---
Tropes included:
---