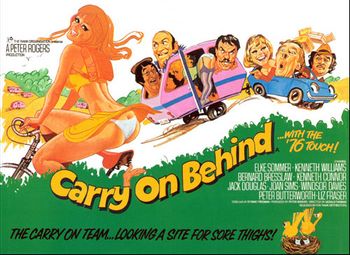 Barnes
: Have a look at this!
Daphne
: Well, lay it on the table so I can see it.
— An overheard conversation between
Henry and Daphne Barnes
over
a game of poker
.
Carry On Behind is a 1975 British film and the 27th from the Carry On film series. It stars German actress Elke Sommer, Kenneth Williams, Bernard Bresslaw, Kenneth Connor, Jack Douglas, Joan Sims, Windsor Davies, Peter Butterworth, and Liz Fraser.
This was the fourth Carry On movie based on holidays and was the last critically-acclaimed "good" Carry On film of the 1970s. This is possibly because screenwriter Talbot Rothwell (who wrote most of the films - many being box-office smashes) had taken ill and unfit for work and was replaced with different writers per movie for the rest of the series. This film was instead written by Dave Freeman, who was also a writer for Sid James' sitcom Bless This House.
Like many of the holiday movies, Behind tells several subplots of ordinary folk that meet up at a holiday site. This time it's at Riverside Caravan Park, a field by some trees and a clubhouse, where it rains heavily and there are sinkholes... lots of sinkholes. It's owned by Major Leep (Connor) and run with the help of Henry Barnes (Butterworth), a dirty odd-jobs man.
Some of the visitors include Professor Roland Crump (Williams), who brings along foreign colleague Professor Anna Vooshka (Sommer) and a load of rowdy archaeology students to excavate nearby, which causes a lot of havoc with the other residents; Fred Ramsden (Davies), a butcher, and his electrician friend Ernie Bragg (Douglas) who hope to find some crumpet as their wives Sylvia (Fraser) and Vera (Patricia Franklin) won't be coming with them; Carol (Sherrie Hewson) and Sandra (Carol Hawkins), two dolly birds who catch Fred and Ernie's attention; Arthur Upmore (Bresslaw), whose holiday is spoilt as he reluctantly brings his wife Linda's (Patsy Rowlands) mother, Daphne (Sims), and her pet - a talking mynah bird (Gerald Thomas); and Joe and Norma Baxter (Ian Lavender and Adrienne Posta), a couple with an enormous dog named Ollie.
It seems that no one will be having a relaxing holiday, as Professor Crump has to struggle to work with the vastly different Professor Vooshka; Carol and Sandra take advantage of Fred and Ernie's desperate advances before leaving them for Bob (Brian Osborne) and Clive (Larry Dann); Arthur is worn down by Daphne's constant nagging and trying to track down her escaped mynah bird; Ollie goes missing, forcing Joe to try and find him once more; and Barnes has a chance re-encounter with Daphne, who had left him ten years prior.
Everything comes to a "ripping" conclusion at the newly opened Riverside Club, where Major Leep accidentally hires a stripper, Veronica (Jenny Cox), for the cabaret and the over-painted chairs leave everyone looking a right arse as Hilarity Ensues.
For other Carry On holiday films, see Carry On Cruising, Carry On Camping and Carry On Abroad.
---
Tropes Included:
---