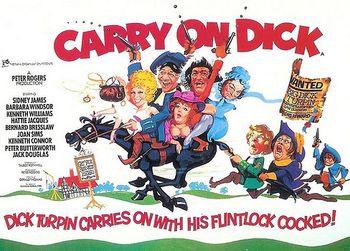 Scottish Highwayman: STAND AND DELIVER!!!
Carry On Dick was released in 1974, based on the Georgian historical highwayman Dick Turpin, who was known for robbing aristocrats around England. This features movie regulars Sidney James, Kenneth Williams, Barbara Windsor, Hattie Jacques, Bernard Bresslaw, Joan Sims, Peter Butterworth, Kenneth Connor and Jack Douglas. This was the last Carry On film for James, Jacques, and Windsornote Though Windsor did appear in the compilation film That's Carry On!.
Dick is an Affectionate Parody of a history event, much like Carry On Henry and Carry On Cleo, making the movie focus around the Loveable Rogue Dick Turpin and his life as a priest for the local church and a highwayman at night. Possibly because of his legacy, the town is full of thieves that walk the streets and rob from rich citizens in carriages, but the secret police, the Bow Street Runners, led by Sir Roger Daley (Bresslaw) and Captain Desmond Fancey (Williams), have captured every single one. The problem they face is that the quick-witted Turpin (James) is always one step ahead of them, with the help of his friends Tom (Butterworth) and Harriett (Windsor), who also help him at the local church with the oblivious Martha Hoggett (Jacques).
Despite the Runners intervening on many of Turpin's ambushes, Turpin manages to kidnap Madame Desiree (Sims) and her friends, and rob Sir Daley and his wife. Fancey and Sergeant Jock Strapp (Douglas) decide to go alone, in fear of being fired by Sir Daley, and manage to find out the history of Turpin, which they try and use to their advantage, with disastrous results. Many times, they are arrested by the blithering Constable (Connor), who cannot tell the difference between criminals and members of his police squad.
Expect a Hurricane of Puns, bawdy humour, and Sid James' dirty laugh. It is a Carry On film, after all. There's also a funny page that needs tender loving care — feel free to add to it.
---
Tropes Include:
---