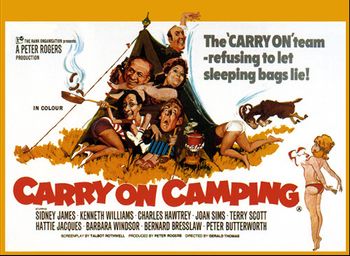 Carry On Camping is a film from the Carry On series, that is arguably the best film of the entire franchise, and was the highest-grossing film at the box office in 1969. It stars series regulars Sid James, Joan Sims, Bernard Bresslaw, Peter Butterworth, Kenneth Williams, Barbara Windsor, Hattie Jacques, Dilys Laye, Terry Scott and Charles Hawtrey, and featured another appearance from Betty Marsden.
The movie hops between a Road Trip Plot and a Camping Episode depending on which set of characters are being focused on, as a group of people decide to spend their holidays at a campsite that belongs to a greedy farmer (Butterworth), who charges customers ludicrously.
Keen campers that arrive are Sid Boggle (James) and Bernie Lugg (Bresslaw), who are inspired to go camping after watching a movie at the cinema about a nudist campsite. They hope to liberate their prudish girlfriends, Joan Fussy (Sims) and Anthea Meeks (Laye), and hopefully have a chance to finally make love with them. The former goal doesn't go well, and the latter goal balances on a very thin line.
Another set of campers are married couple Harriet (Marsden) and Peter (Scott) Potter, who were completely divided over the idea, to begin with. Harriet is keen to go on a camping and is so wrapped up in her own little world, she doesn't listen to her camping-hating husband, who tries to convince her to go on holiday overseas, and fails miserably.
Then there's the happy-go-lucky Charlie Muggins (Hawtrey) whose tent is blown away and is allowed to stay with the Potter couple, much to Peter's disgust, and manages to unintentionally cause him loads of grief.
Finally, there are the schoolgirls from a posh boarding school, who hope to get lucky with boys whilst on holiday, but are watched like hawks under the beady eyes of their head teacher Dr. Soaper (Williams) and the school nurse Miss Haggerd (Jacques), who are secretly dealing with their own problems, such as Haggerd fawning over Soaper and hoping to go all the way with him.
---
Tropes Include:
---
For other Carry On films about vacations, also see Carry On Cruising, Carry On Abroad and Carry On Behind.
---