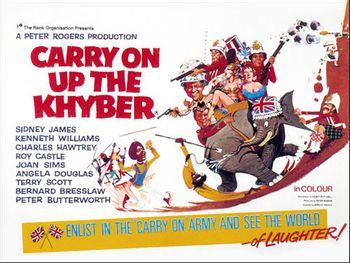 "That will teach them to ban turbans on the buses!"
— Bungdit Din
Carry On... Up the Khyber is the sixteenth film in the British Carry On film series and named one of the best films out of the series, starring regulars Sidney James, Joan Sims, Charles Hawtrey, Kenneth Williams, Terry Scott, Bernard Bresslaw, Angela Douglas and Peter Butterworth, as well as Roy Castle in his only film of the series.
It is set in the glory days of the British Empire, in which the governors who have set up camp in British India struggle to befriend the Kalabar citizens on the other side of Khyber Pass. The head governor is Sir Sidney Ruff-Diamond (James), along with his men Captain Keene (Castle), Major Shorthouse (recurring Carry On regular Julian Holloway) and Sergeant Major MacNutt (Scott), who are in an ongoing cold war between the angry Khasi of Kalabar (Williams) and his army general Bungdit Din (Bresslaw), who live on the other side of the Khyber Pass: a long road around a mountainside guarded by the British army, the Third Foot & Mouth Regiment — nicknamed the "Devils In Skirts".
The British governors hope to scare the opposition into surrender by making their army wear nothing under their uniforms, but after being knocked out by Bungdit, Private James Widdle (Hawtrey) has his underwear stolen, which was keeping him warm from the cold mountain winds. This makes the governors inspect all of the army, finding the horrifying sight of them all wearing underpants. Despite hoping that the enemy will not see this, the sexually-frustrated Lady Joan Ruff-Diamond (Sims) takes a secret picture of the spectacle and takes it to the attractive Khasi, hoping to have sex with him in return.
With her disappeared, Sid is constantly sent women to ravish him as he waits for his wife to be released from her "capture". Keene, MacNutt and Widdle wear disguises as they try to rescue the stolen underwear from the Khasi's palace, with the help of the reluctant Brother Belcher (Butterworth), a missionary who "rescues" women from falling out of religion by secretly making love to them, and Keene's love interest, the Kalabar princess Jelhi (Douglas).
---
Tropes Included:
---