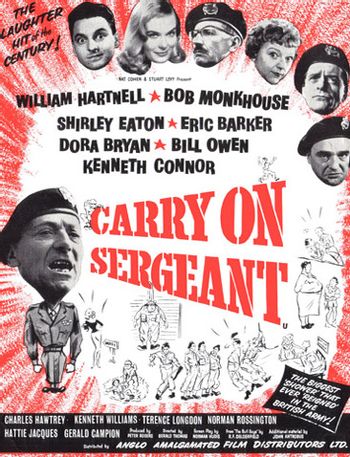 "I tell ya mate - two of everything ya should have two of, and you're in!"
.
Carry On, Sergeant is a 1958 British black-and-white Summer Blockbuster that began the popular Carry On film series, which was known for its Universal-Adaptor Cast of recurring comic actors. It starred Bob Monkhouse, William Hartnell, Shirley Eaton, Eric Barker, Dora Bryan, Bill Owen, Charles Hawtrey, Kenneth Connor, Kenneth Williams, Terence Longdon, Norman Rossington, and Gerald Campion.
Many claim that the title came from the phrase that the army officer would say when misspoken (the US Army equivalent would be "As you were"), however, it's more likely that this film was trying to reference the popular 1957 comedy movie Carry On Admiral. (Funnily enough, Carry On series regular Joan Sims appeared in that movie, but didn't show up in the Carry On film series until this movie's sequel Carry On Nurse.)
Considering that Sergeant was the first movie in the franchise, no one would've known of the success that it would become; the average user that had seen films from the rest of the series before this one would expect the regular cast members like Kenneth Williams and Charles Hawtrey to be the leading actors. This isn't exactly the case.
Sergeant stars Monkhouse as a man named Charlie Sage, who receives National Service recruitment letters minutes after his wedding to new wife Mary (Eaton). On his way to the base he meets a fellow Private, the Hypochondriac Horace Strong (Connor), who spends most of his time bothering Captain Clark (Hattie Jacques) about his so-called issues; Charlie later gets to know the harmless yet scatterbrained Peter Golightly (Hawtrey), obnoxious university graduate James Bailey (Williams), utter failure Herbert Brown (Rossington), upper-class cad Miles Heywood (Longdon) and rock 'n' roller Andy Galloway (Campion).
They are assigned to the calm Sergeant Grimshawe (Hartnell), who is secretly in competition with rival Sergeant Paddy O'Brien (Terry Scott) over winning an award for the best platoon. He doesn't think that the ignorant men should be verbally abused when they do wrong - unlike the smug and devious commanders Captain Potts (Barker) and Corporal Bill Copping (Owen), who seem to relish roaring at the hopeless men every minute.
Meanwhile, Mary smuggles herself into the depot to get a job in the NAAFI, where she helps out Norah (Bryan), who has a crush on Horace.
---
Tropes included are:
---