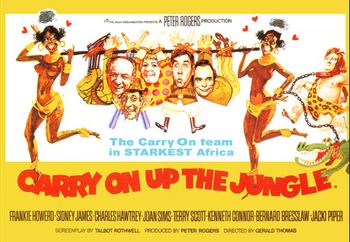 Bill Boosey:
Well, Upsidaisi, what do those drums say?
Upsidaisi:
Dey say... "Boom diddy, boom diddy, boom boom boom".
—
Bill Boosey and Upsidasi
, trying to translate the
Jungle Drums
.
Carry On Up the Jungle is a Carry On movie from 1970 starring series' regulars Sid James, Joan Sims, Charles Hawtrey, Bernard Bresslaw, Kenneth Connor (in his first Carry On since Carry On Cleo), and Terry Scott, and introduced actress Jacki Piper and was the second (and last) film to star famous British comedian Frankie Howerd. It is claimed to be an Affectionate Parody of Tarzan, implied when the original movie titles were "Carry On, Tarzan" and "Carry On, Jungle Boy".
Like many Carry On movies, the story is set around a Ragtag Bunch of Misfits that meet up in a mundane location. This time, the team meet up in an expedition in Darkest Africa with plans to camp out for as long as possible until they've found what they've wanted.
A foppish Professor Inigo Tingle (Howerd) hopes to find an exotic bird in order to study its way of life, taking his horny partner Claude Clumley (Connor) along with him for extra help. Clumley soon becomes interested with the posh Lady Evelyn Bagley (Sims), who hopes to find her missing husband Walter (Hawtrey) and son Cecil years after their mysterious disappearances, but has to compete with the powerful hunter Bill Boosey (James), who is just as interested in the woman as Clumley.
The group is led around by Boosey's native African friend Usidaisi (Bresslaw) and set up camp, where they are terrorized by the natural surroundings and eventually UST. Then Bagley's assistant June (Piper) goes missing and becomes the social interest of jungle boy Ugh (Scott), who she reluctantly teaches social skills to, in hope that she'll be freed from his tight grip.
---
Tropes Included:
---