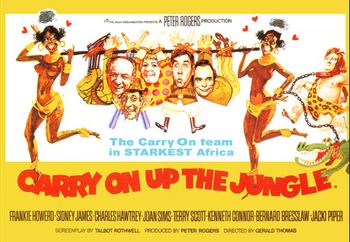 Mr. Boosey
: Well Upsidasi, what do those drums say?
Upsidasi
: Dey say... "Boom diddy, boom diddy, boom boom boom".
—
Bill Boosey
and
Upsidasi
, trying to translate the
Jungle Drums
.
Carry On Up the Jungle is a Carry On movie from 1970, and the nineteenth overall. It starred famous British comedian Frankie Howerd, Sid James, Charles Hawtrey, Joan Sims, Terry Scott, Kenneth Connor (in his first Carry On since Carry On Cleo), and Bernard Bresslaw. It is claimed to be an Affectionate Parody of Tarzan, implied when the original movie titles were Carry On Tarzan and Carry On Jungle Boy.
Up the Jungle revolves around a Ragtag Bunch of Misfits on an expedition in Darkest Africa with plans to camp out for as long as possible until they've each found what they've wanted.
The foppish Professor Inigo Tingle (Howerd) hopes to find the Oozlum bird in order to study its way of life, taking his horny partner Claude Chumley (Connor) along with him for extra help, until he becomes interested with the posh Lady Evelyn Bagley (Sims), who hopes to find her missing husband Walter (Hawtrey) and son Cecil years after their mysterious disappearances, but has to compete with the powerful hunter Bill Boosey (James), who is just as interested in the woman as Mr. Chumley. The final member of the group is Lady Bagley's maidservant June (Jacki Piper), who falls in love with Ug the jungle boy (Scott), and tries to teach him English.
The group is led around by Mr. Boosey's native African friend Upsidasi (Bresslaw) and set up camp, where they are terrorized by a gorilla (Reuben Martin), the Noshas and finally the Lubi-Dubis, who are led by the dashing Leda (Valerie Leon), who may just hold the answers to what the explorers are looking for...
---
Tropes Included:
---