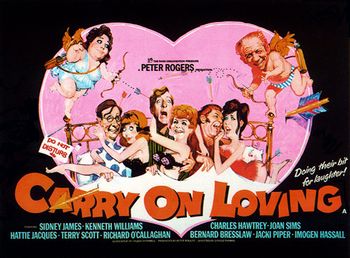 "AND SO THEY WERE ALL MARRIED AND FOUGHT HAPPILY EVER AFTER".
— The end caption.
Carry On Loving is a 1970 movie that marks the 20th Carry On in the British film series. It stars Sid James, Kenneth Williams, Charles Hawtrey, Joan Sims, Hattie Jacques, Terry Scott, Richard O'Callaghan, Bernard Bresslaw, Jacki Piper, and Imogen Hassall.
At the end of the 1960's, discussions of sex and physical relationships were becoming common among the British public and it soon became unfashionable to be "prudish" towards that sort of talk. Unsurprisingly, Carry On films soon followed suit with that sort of humor (take that bra scene from Carry On Camping, for example).
Loving tells the story of a dating agency that hopes to matchmake singletons successfully, whether wrong or right. This agency is run by the constantly feuding couple Sid Bliss and Sophie Plummet (James and Jacques), who put on a facade to their beaming customers as a successful matchup from a coupling computer that they own, which is secretly controlled by Sophie in a back-room. Numerous customers arrive, hoping to find the person of their dreams, but through Sid and Sophie's constant bickering over whom should go with whom, they seem to end up with people they would unlikely have chemistry with.
Shy undertaker's assistant Bertram Muffet (O'Callaghan) is matched with model Sally Martin (Piper), whilst the constantly-trialed Terry Philpot (Scott) is partnered with the traditionally-raised Jenny Grubb (Hassall), who lives with her really large family. Meanwhile, Percival Snooper (Williams) the marriage counselor hopes to try out a relationship, becoming the secret object of Sophie's affections, unaware that his housekeeper Miss Dempsey (Patsy Rowlands) has been in love with him for years. However, Sophie's apparent "cheating" on Sid is justified by the movie because of her large suspicion over her boyfriend's infatuation with client Esme Crowfoot (Sims), eventually hiring James Bedsop (Hawtrey), a private detective, to investigate further. As for Esme, she is already involved with wrestler Gripper Burke (Bresslaw), who is prone to fits of violent jealousy against men he thinks are pursuing Esme...
---
Tropes Included:
---