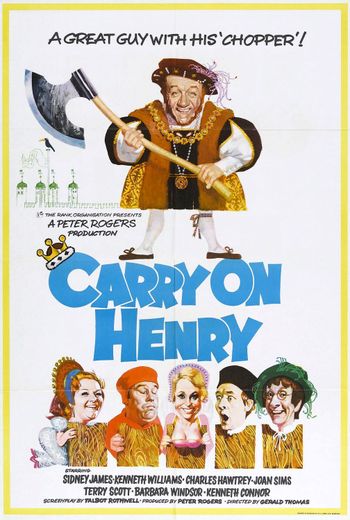 Henry VIII:
Are you telling me that France will start a war if I don't bed her?
Carry On Henry is another Carry On that is an Affectionate Parody of a movie/theater piece that itself is based on historical events, much like Carry On Cleo. It stars regulars Sidney James, Joan Sims, Kenneth Williams, Charles Hawtrey, Kenneth Connor, Barbara Windsor and Terry Scott who each take on historical icons in the time of the Tudor period in Carry On's parody of Anne of the Thousand Days.
Henry is another movie that relies on full-on Anachronism Stew for its Rule of Funny, giving unknown historical figures at the time a bigger role, or just mixing two separate eras to add further drama. A terrorist group work under the nose of the royal family, plotting to blow the Tudor house sky high, which was a moment in history that happened in the Stuart era — after the Tudor era.
Sid James stars as the famous English king Henry VIII, who's a womanizing sex-pest Dirty Old Man that has just gotten rid of his fourth wife for not putting out. Minutes after her execution, he marries again to Marie of Normandy (Sims), who he later regrets the decision after trying to have sex and being repulsed by her breath smelling of garlic. He issues a demand that the marriage be annulled to Thomas Cromwell (Williams) and Cardinal Wolsey (Scott) who are against it, but follow through.
The King, meanwhile, has set his sights on marrying Bettina of Windsor (Windsor), but whether or not such a marriage would be bigamous seems to be constantly changing. Sir Roger de Lodgerley (Hawtrey) is constantly accused of high treason for anything to the King's fancy and is sentenced to ludicrous punishments, while the underground extremist group led by Lord Hampton of Wick (Connor) try to bring the Tudor dynasty to an end.
Expect a Hurricane of Puns, bawdy humour, and Sid James' laugh.
---
Tropes Included:
---