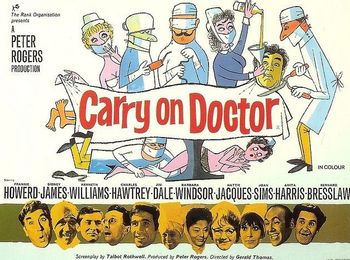 "Look at me. I don't need doctors, I don't need medicine, and nor will you if you just think: 'Nothing. Nothing can happen to me'. And believe me, nothing will."
Carry On Doctor is the fifteenth film in the Carry On film series.
It was released in late 1967, and starred famous British comedian Frankie Howerd, Sid James, Charles Hawtrey, Kenneth Williams, Jim Dale, Barbara Windsor, Joan Sims, Bernard Bresslaw, Hattie Jacques, Anita Harris, and Peter Butterworth.
This was the second Carry On to be about the medical profession or set in a hospital; the first being Carry On Nurse back in 1959. It focuses on the antics of the patients and the medical staff in the Borough County Hospital, who have lots of personal problems either in their private lives or with each other.
Firstly, faith leader Francis Bigger (Howerd), who tours around the country promoting positive thinking about health, is admitted to hospital after falling off the stage at one of his lectures - a thing that he loathes because he doesn't believe in medical care - but he is rather grateful that he is away from his deaf assistant Chloe Gibson (Sims).
Secondly, there are the patients in the ward: Charlie Roper (James) is a lazy work-shy man who constantly finds ways to make himself seem worse off than he is; Mr. Barron (Hawtrey) is thought to be suffering from prenatal depression due to his wife Mildred (Gwendolyn Watts) waiting patiently for her labor to commence, so is sent to have pregnancy classes with expecting mothers; Ken Biddle (Bresslaw) is suffering from a broken leg after falling off the surgery table during his appendix operation, who also has feelings for Mavis Winkle (Dilys Laye) in the female ward; and Mr. Smith (Butterworth) who has had a lump removed.
Finally, there's the staff: Dr. Kenneth Tinkle (Williams), who doesn't believe in Mr. Roper's ongoing illness because he isn't able to figure out what's wrong with him; Lavinia, the Matron (Jacques) who has feelings for Dr. Tinkle; Dr. Jim Kilmore (Dale), who is secretly hated by Dr. Tinkle and Matron; Nurse Clarke (Harris), who has feelings for Dr. Kilmore; and Trainee Nurse Sandra May (Windsor), who also has feelings for Dr. Tinkle.
When Dr. Tinkle and Matron finally manage to get Dr. Kilmore sacked following an incident on the roof of the nurses' home with Nurse Clarke and Nurse May, Hilarity Ensues as the patients rally together to get Dr. Kilmore reinstated, while also getting back at Dr. Tinkle and Matron for making their stays at the hospital miserable.
To see the critically acclaimed medical Carry On "sequel", see Carry On Again Doctor. Also see Carry On Nurse and Carry On Matron for other hospital-based movies.
---
Tropes Included:
---