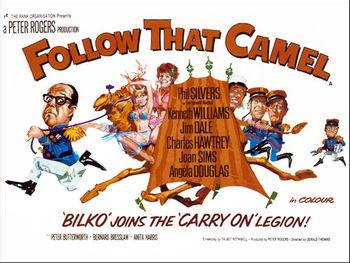 Abdul Abulbul: The infidels will perish when the crescent of the moon's in its third stage of Orion.
Sergeant Knocker: When's that?
Abdul Abulbul:
Tuesday.
— One of the first meetings between the hero and the villain.
Follow That Camel is a Carry On movie that was released in 1967 as the fourteenth movie in the series. It stars regulars Kenneth Williams, Jim Dale, Charles Hawtrey, Angela Douglas, Joan Sims, Peter Butterworth, and Bernard Bresslaw. Newcomer Anita Harris joins the cast, as well as Phil Silvers in his only Carry On film.
This was the second Carry On film that didn't have the "Carry On" phrase proceeding the verb/phrase, but is sometimes stuck on when listed as a feature in the TV Guide. It wasn't meant to be a member of the franchise to begin with anyway, despite the same crew and the Universal-Adaptor Cast, but was reluctantly stuck on there to boost the box office. (Interestingly, in some countries the movie was released as Carry On In The Legion.)
It is said to be a parody of the novel Beau Geste by Percival Christopher Wren, mostly of the 1939 movie adaptation, but it mocks other films around the plot of the French Foreign Legion, such as certain characters' names, like the character of CorkTip (Harris), who was a mock of the Cigarette character from the movie Under Two Flags.
The movie stars a middle-class cricket fanatic named Bertram "Bo" West (Dale), who runs away from England to join the French Foreign Legion with his loyal servant Simpson (Butterworth) after being accused of cheating in a friendly cricket match by a rival suitor named Humphrey to West's crush Lady Jane Ponsonby (Douglas).
After finding out his innocence, Jane sets out to find him in the Middle East, but West and Simpson's too busy dealing with the likes of the smug womanising Sergeant Knocker (Silvers), the snobby Commandant Burger (Williams) and his kooky sidekick Captain le Pice (Hawtrey) to consider going back to the British Isles. Either way, they probably wouldn't be allowed to leave after being mistaken for patrolling by Knocker's wife ZigZig (Sims) in her restaurant and getting them signed up immediately.
Jane soon bumps into several locals around the town and is then drugged and kidnapped in a bar by an Arabian royal Sheikh Abdul Abulbul (Bresslaw) and is prepped to be made his thirteenth wife. When West finds out, he and Simpson and the rest try to save her and end the Arabian war against Abulbul's bloodthirsty Bedouins.
---
Tropes Included:
---