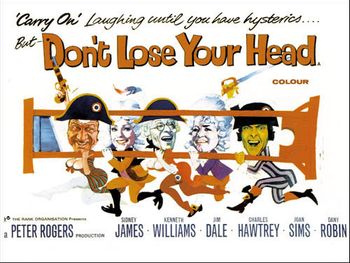 "This could never have happened before the revolution!"
— Citizen Camembert
Don't Lose Your Head is a 1967 movie that is the thirteenth instalment of the British Carry On film series. It stars Sid James, Kenneth Williams, Jim Dale, Charles Hawtrey, Joan Sims, popular French actress Dany Robin, Peter Butterworth, and Peter Gilmore.
This film is set in the time of the The French Revolution with allusions to The Scarlet Pimpernel, making this the second film in the series to be an Affectionate Parody that features a lot of Anachronism Stew. The execution of the French aristocrats is going strong under the watchful eye of the smug police chief Citizen Camembert (Williams) and his sidekick Citizen Bidet (Butterworth), until the British merchant Sir Rodney Ffing (James) - calling himself The Black Fingernail - and his sidekick Lord Darcy Pue (Dale) rescue the eccentric Duc de Pommfrit (Hawtrey) from the guillotine.
After being threatened by his superior Citizen Robespierre (Gilmore), Camembert goes undercover with Bidet and his lover Desiree Dubarry (Sims) to find the true identity of the Black Fingernail who has been rescuing the rich from their executions. They discover a beautiful young woman named Jacqueline (Robin), who has fallen for the Fingernail, and imprison her to catch him.
---
Tropes appearing in this film:
---