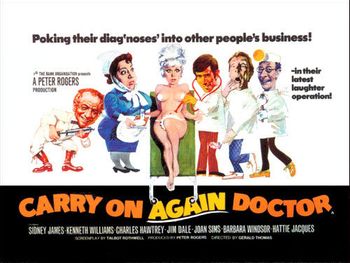 Carry On Again, Doctor is a Carry On film starring regulars Sidney James, Kenneth Williams, Charles Hawtrey, Joan Sims, Barbara Windsor, Jim Dale and Hattie Jacques. This was mostly criticized as a weaker rip-off of Carry On Doctor, and many claim that this was its sequel, despite none of the characters from the "original" appearing once, and the actors that were in the original were playing completely different characters. (Well, apart from Jacques playing "Matron", again.)
Dr James Nookey (Dale) is the scourge of Long Hampton Hospital, somehow finding himself in one embarrassing situation after another, to the anger of senior doctors Frederick Carver (Williams) and Ernest Stoppidge (Hawtrey). After a series of incidents culminating in getting drunk at a hospital party and making a disastrous attempt at courting model Goldie Lockes (Windsor), Nookey is sent by Carver to a medical mission on the inhospitable Beatific Islands, where he learns of a native slimming potion created by the mission's medical orderly, the womanizing Gladstone Screwer (James).
He flies back to England to cash in on the potion with investment from the medical mission's founder, wealthy widow Ellen Moore (Sims), and he soon finds success running a lavish slimming clinic, even luring away the head matron (Jacques) from his former employer. However, Carver, outraged that his dream of a private clinic funded by Mrs Moore has been hijacked by Nookey, shows up seeking a cut of the profits, as does Gladstone when he learns that his invention is making Nookey a very rich man.
---
Tropes Included:
---
For other Carry On films about hospitals, see Carry On Nurse, Carry On Doctor and Carry On Matron.
---