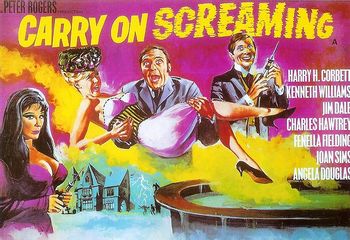 "He's been dead fifteen years now... but if you come in, I'll ask him if he can see you"
.
— Sockett upon hearing a request to see the master of the Bide-a-Wee Rest Home.
Carry On Screaming! is a 1966 film from the Carry On series, making it the twelfth movie made. It starred Harry H. Corbett, Kenneth Williams, Jim Dale, Charles Hawtrey, Fenella Fielding, Joan Sims, and Angela Douglas in the series' take on Hammer Horror.
The movie is set in Edwardian times and begins in Hocombe Woods with Doris Mann (Douglas) being abducted by Odbodd (Tom Clegg), a horrible wolfman monster, from her lover Albert Potter (Dale). Two detectives, Detective Sergeant Sidney Bung (Corbett) and Detective Constable Slobotham (Peter Butterworth), have been tracking disappearances in the same area and find the creature's finger. The three of them search for more clues and find the Bide-a-Wee Rest Home, home to strange butler Sockett (Bernard Bresslaw), attractive mistress Valeria (Fielding), and her electrical brother Dr. Olando Watt (Williams), who scare them away.
The next day, the trio interview Dan Dann (Hawtrey), a lavatory attendant, but he is killed before he can reveal anything. In fear of being discovered, Valeria uses a potion to turn Sergeant Bung into a hunched-over sniveling alter-ego, ordering him to steal a mannequin that looks suspiciously like Doris, leading Sergeant Bung to link two-and-two together. His wife Emily (Sims) is convinced that he's having an affair, so she secretly follows along, getting dragged into the plot in the process as Hilarity Ensues.
---
Tropes Included:
---