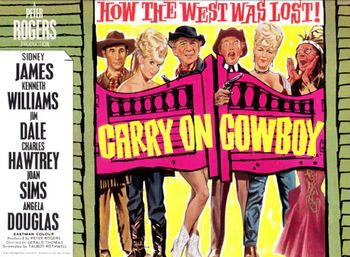 "I know it's the Wild West, but this is ridiculous!"
—Marshall P Knutt
Carry On Cowboy is the eleventh movie in the Carry On film series starring Sid James, Joan Sims, Kenneth Williams, Jim Dale and Charles Hawtrey, as well as Peter Butterworth, Bernard Bresslaw and Angela Douglas, appearing in this 1965 flick.
It is based on the fictional depictions of The Wild West, featuring Cowboys and Indians and several Showdown at High Noon moments, starring the Rumpo Kid (James), who arrives at a lonely town, and murders the locals and The Sheriff, and takes over the saloon, previously owned by Belle (Sims), now the Local Hangout for many villains.
Then an Englishman named Marshall (Dale), a sanitation engineer and expert in sewage system design who is mistaken for a marshal, arrives in the town, scaring Rumpo into trying to assassinate him, including sending Chief Big Heap (Hawtrey) and Little Heap's (Bresslaw) Native American tribe to attack the town. With the help of Annie Oakley (Douglas), the Mayor (Williams) and Doc (Butterworth), there could be a chance that the Marshall "the marshal" will get away from the Rumpo Kid alive.
---
Tropes Included:
---