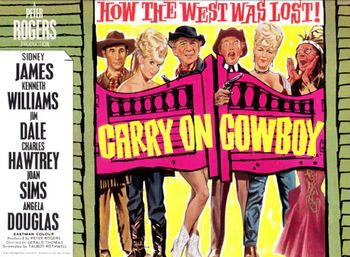 "I know it's the Wild West, but this is ridiculous!"
.
—
Marshal P. Knutt
watching a
Cat Fight
between Belle, Annie and Dolores.
Carry On Cowboy is a 1965 film and the eleventh in the Carry On series starring Sid James, Kenneth Williams, Jim Dale, Charles Hawtrey, Joan Sims, and Angela Douglas.
It is based on the fictional depictions of The Wild West, starring Johnny Finger, the Rumpo Kid (James), who arrives at Stodge City. After gunning down several innocents, including Sheriff Albert Earp (Jon Pertwee), he takes over Belle's Place, previously owned by his current fling, Belle (Sims), and turns it into the Local Hangout for his posse, consisting of Curly (Peter Gilmore), Short (Simon Cain) and later Charlie the bartender (Percy Herbert) becoming his right-hand man. While many locals are on Rumpo's side, such as greedy undertaker Josh Moses (Davy Kaye), the Mayor, Judge Burke (Williams), and his friends Doc (Peter Butterworth) and Colonel Sam Houston (Sydney Bromley) are horrified at the developments. After failing to get rid of Rump themselves, Judge Burke sends for a US Peace Marshal to try and end Rumpo's reign of terror.
Unfortunately, an Englishman named Marshal P. Knutt (Dale) - a drainage, sanitation and garbage disposal engineer, first class - is mistaken for a marshal, and sent to Stodge City to sort out Rumpo, where along the way he meets Annie Oakley (Douglas), who is on her way to avenge the death of her father, Sheriff Earp. Rumpo begins scheming to kill Marshal, including sending Chief Big Heap (Hawtrey) and his son Little Heap's (Bernard Bresslaw) Native American tribe to attack his stagecoach, trying to have him hung and running him over with a herd of horses. Hilarity Ensues as Marshal "the marshal" has to struggle to take down Rumpo with the help of Judge Burke and Annie, or die trying.
---
Provides examples of:
---