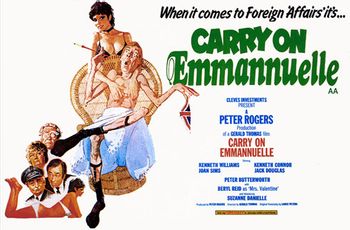 Emile: Oh, but why me? You can have Tom, Dick or Harry!
Emmannuelle
: I don't want Tom or 'Arry!
— Emile and Emmannuelle Prévert in bed together.
Carry On Emmannuelle is a 1978 Carry On film and the 30th in the series. It was the series' take on Awful British Sex Comedy films that were really popular at the time, such as the memorable Confessions of a... Series.
The movie stars Suzanne Danielle, Kenneth Williams, Kenneth Connor, Joan Sims, Jack Douglas, Peter Butterworth, Larry Dann, and Guest Star Beryl Reid. Danielle leads as the titular French-born Emmannuelle, who is returning to England to surprise her husband, the French Ambassador Emile Prévert (Williams), but not before getting busy with Theodore Valentine (Dann), another passenger on the flight, in the plane bathroom. When she meets up with her husband at his grand mansion, she immediately tries to have sex with him, only to have her advances rebuffed. Hilarity Ensues as Emmannuelle then decides to have lots of sex with lots of different men.
During her escapades, Emmannuelle slowly begins to win over her husband's disapproving servants - randy chauffeur Leyland (Connor), shrewish housekeeper Mrs. Dangle (Sims), officious butler Lyons (Douglas), and ancient bootboy Richmond (Butterworth), while also having to deal with Theodore trying to win her over, despite his mother's (Reid) insistence that he's too young for love.
Emmannuelle was slated by anyone who watched it, and is unanimously agreed to be the series' Fanon Discontinuity. At least all the fans had accused the film of shark jumping, and the ones who didn't were never fans of the British sex comedies to begin with. Others were just hesitant after sitting through the Clip Show That's Carry On! and the embarrassment Carry On England, which was infamously withdrawn from cinema viewing after three days.
---
Tropes included are:
---