As the play is Older Than Steam and most twists in Shakespeare's plots are now widely known, all spoilers on this page are unmarked.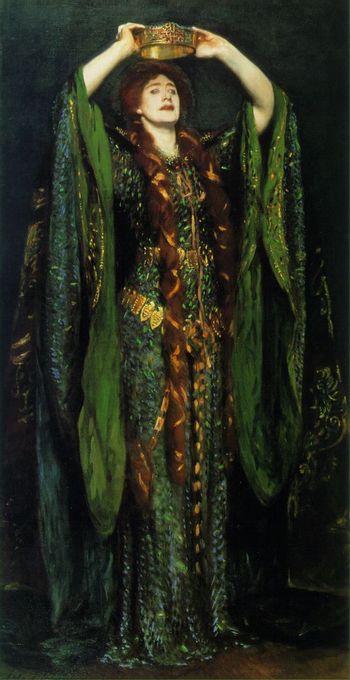 "By the pricking of my thumbs,
Something wicked this way comes..."
— The Weird Sisters
The Tragedy of Macbeth is a 1606 play written by William Shakespeare. It was written at the express request of King James I/VI of England and Scotland, who asked Shakespeare to present a new play to honor his visitor, the King of Denmark.
The play takes place in the Scottish Highlands. Fresh from putting down a rebellion against King Duncan, Lord Macbeth meets three witches who hail him as the future king. His scheming and ambitious wife convinces him to make the prophecy come true by killing Duncan. They succeed, but the two of them spend the rest of the play slowly going insane from guilt; Lady Macbeth begins sleepwalking, scrubbing at imaginary bloodstains and hallucinating, and ultimately kills herself. Macbeth himself enters into a paranoid frenzy, killing every potential rival in order to consolidate his power. The witches predict that "none of woman born" shall slay him, which gives him some reassurance... until he meets Macduff, whose family he murdered, and who was "from his mother's womb untimely ripped" — in other words, delivered via crude caesarean section from his mother's dead or dying body, not "born" as Elizabethans defined it. D'oh.
Many of the inconsistencies in Macbeth come from the fact that Macbeth was a real person who was featured in Holinshed's Chronicles, a best-selling popular history of Shakespeare's time. Holinshed played fast and light with the facts in many cases, though — for instance, he includes legendary or wholly fictional characters such as Fleance, who was supposedly an ancestor of the Scottish royal family. (In the play as produced now, Fleance disappears in Act Three: in the original 1606 presentation, he was brought back on stage after the play in a "dumb show" that explained he was the ancestor of the Stuarts.) Holinshead also refers to Lady Macbeth as "burning with an unquenchable desire to bear the name of a queen". In reality, he had no historical justification for this — the only thing that's actually known about Lady Macbeth is that she existed (and that her first name was Gruoch, and that Macbeth was her second husband) — but Shakespeare turned that one sentence into one of his best-known female characters.
Shakespeare also takes liberties with the facts, although in his case his changes are justifiable as they improve the dramatic tension and the flow of the action; after all, he was writing a play, not a history. For instance, he makes Duncan a wise, old good king (at least superficially) instead of a young wastrel, he has Macbeth kill him while sleeping instead of in a fair fight, and he compresses the action into two seasons when the real Macbeth ruled for 17 years (and successfully). He also leaves aside the fact that the real Macbeth actually did have a legitimate claim to the throne* For centuries, the succession rule in Scotland was called Tannistry, by which the throne alternated between different branches of descent from the first King, Kenneth MacAlpin. Duncan's grandfather, Malcolm II, had been the first to attempt to abandon it in favour of his eldest grandson. By Tannistry, it would have been Macbeth's branch's turn.
Another source of the inconsistencies is that Shakespeare wanted to get in all kinds of things that he thought King James would like — witches, ghosts, the legitimacy of the Stuart line, the divine right of kings (something James was for, to put it mildly), and the portrayal of his Scottish ancestors as noble and warrior-like. The fact that Shakespeare snuck in the trope that "power corrupts, but absolute power corrupts absolutely" — possibly a criticism of James's desire for absolute power — was not noticed until after Shakespeare had died, and may not even be noticed these days by readers looking for the blood and guts. And yet, even considering all this, the play still endures to this day.
Superstitious actors refer to this as "The Scottish Play" (or, occasionally, "The Tartans"), due to the belief that speaking the main character's name brings bad luck. The head role is "The King" or "Mackers" anywhere outside the play itself. And though the script calls for it, sometimes things still happen, though they are usually less injurious. Some of the wackier ones talk about The Scottish Restaurant.
---
Notable adaptations:
An Italian Opera by Giuseppe Verdi. It was the first of Verdi's three Shakespeare operas, along with Otello and Falstaff, (the former of which was used to entice him out of retirement).
The 1936 "voodoo" stage production by the Negro People's Theatre (an all-black unit of the Federal Theatre Project), directed by Orson Welles and set in Haiti, was considered one of the best stage productions in history. (A snippet of this production was filmed for the WPA newsreel "We Work Again.")
Welles also made a film version in 1948, where he played the title role. Bombed due to several changes that critics didn't like, such as transposing scenes and dialogue, dropping the redundant characters of Donalbain and the Third Murderer, inventing a new character (a Christian minister), and actually having the cast speak in Scottish accents.
Roman Polański's 1971 film version, memorable for its explicit violence (allegedly influenced by the murder of Polanski's wife and unborn child by the Manson Family) and for Lady Macbeth's nude sleepwalking scene (non-explicit). This is notable for being produced by Playboy Productions, as part of a short-lived attempt to create a mainstream film arm as well as a personal attempt by Polanski's friends to pull him out of depression.
Throne of Blood, Akira Kurosawa's take on the story, set in feudal Japan. Considered by many to be the best film adaptation of the material.
uMabatha, a South African adaption, turning Macbeth and King Duncan into Zulu chiefs. Made Peter Ustinov claim that he after having seen it finally truly understood Macbeth.
From a Jack to a King: Bob Carlton musical, with a lot of Sixties songs.
It's one of the four adapted-to-modern-times stories from the 2006 BBC mini-series Shakespeare Re-Told. They changed the setting to a plush Glaswegian restaurant. Duncan is the owner, who carries the laurels off the actual chef, Macbeth (played by James McAvoy). McAvoy would later portray the titular character on stage in a 2013 production directed by Jamie Lloyd, and the actor was nominated for a Laurence Olivier Award.
Scotland, PA, a dark comedy also set in a restaurant, this one in 1970s Pennsylvania.
A condensed 75-minute, five cast ensemble 1977 version in Prague (then part of a unified, Soviet-controlled Czechoslovakia) by Pavel Kohout.
Mac Homer, Rick Miller's one-man show, which casts Simpsons characters in the roles. While largely following the play's basic story, many liberties, fourth wall breaks and lampshades unsurprisingly occur for comedic effect.
2003's Maqbool, a Bollywood adaptation directed by Vishal Bhardawaj in the Hindi and Urdu languages, set in the Mumbai underworld.
A 2006 Australian film starring Sam Worthington, with a Setting Update to the Melbourne ganglands. It sticks to the play fairly well, but adds a few silent scenes, and suggests that Lady Macbeth acted out of grief of a dead child. And she's also a cocaine addict.
British immersive theatre company Punchdrunk created Sleep No More, a loose adaptation of Macbeth mixed with elements of Alfred Hitchcock, Stanley Kubrick, and other suspense/noir styles, set in the late 1930s. Audience members are masked and silent as they wander on their own through the massive 100,000-square-foot McKittrick Hotel and the play and actors move around them. Characters are lifted from The Scottish Play and mingle with new, more Hitch-like characters. One of the more popular theatrical adaptations, with consistently sold-out shows extending the run well past its initial six weeks. It's now been running for eight years.
A 2007 West End stage production with a Setting Update to a vaguely Soviet-Russia-esque or Alternate History setting, starring Patrick Stewart with Joseph Stalin's mustache. Transferred to Broadway in 2008, and adapted into a television production in 2010. Free to watch on PBS.com.
An audio novelization by A.J. Hartley and David Hewson, narrated by Alan Cumming. It features deep analysis of several characters, portraying both Macbeth and his wife as tragic figures.
A 2013 stage production for the Manchester International Festival (and later moved to New York) co-directed by and starring Kenneth Branagh, with Alex Kingston as Lady Macbeth and Richard Coyle as Macduff. It was praised for its visceral, immersive atmosphere that placed the audience right in the middle of the action. Martin Scorsese will soon direct a documentary about the production, which will be restaged at the Second World War Leavesden Aerodrome in Hertfordshire.
A 2015 film adaptation directed by Justin Kurzel and starring Michael Fassbender and Marion Cotillard. Filmed on location in the Scottish Highlands, performed with Scottish accents, and uses carefully-researched 11th-century costumes and settings.
The Tragedy of Macbeth is a 2021 feature film directed by Joel (but not Ethan) Coen, with Denzel Washington in the title role, Coen Brothers regular Frances McDormand as Lady Macbeth, and Corey Hawkins as Macduff.
---
The play itself provides examples of the following tropes:
---
Particular productions and adaptations provide examples of:
---