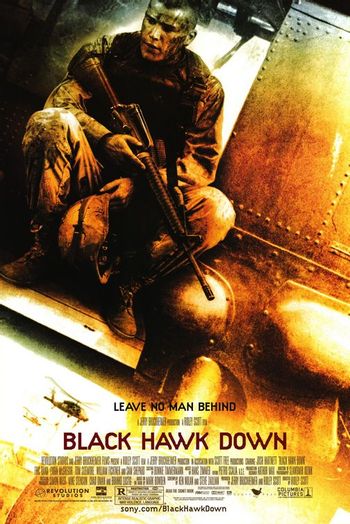 When I go home... and people ask me: "Hey, Hoot, why do you do it, man? Why? You some kind of war junkie?" I won't say a goddamn word. They won't understand why we do it. They won't understand it's about the men next to you. And that's it.
— SFC Norm "Hoot" Gibson
Black Hawk Down is a 2001 war film produced by Jerry Bruckheimer, directed by Ridley Scott, and based on the nonfiction book of the same title by Mark Bowden. The film depicts the Battle of Mogadishu, a 1993 raid integral to the United States' effort to capture Somali warlord Mohamed Farrah Aidid. The movie features Josh Hartnett, Tom Sizemore, Ewan McGregor, Eric Bana, Kim Coates, Ewen Bremner, William Fichtner, Sam Shepard, Jason Isaacs, Glenn Morshower, and Orlando Bloom among many, many others.
In a raid, a task force of Delta Force soldiers, Army Rangers, and Special Operations Aviation Regiment attempt to capture two of Mohammed Farah Aidid's senior subordinates in the Bakaara Market neighborhood of Mogadishu. The mission is led by Major General William F. Garrison and was supposed to take no more than one hour. The extraction by the Delta team is successful, but the Somali militia, armed with RPGs, shot down two Black Hawk helicopters, and the resulting rescue extends the mission to over 15 hours.
---
This movie contains examples of:
---