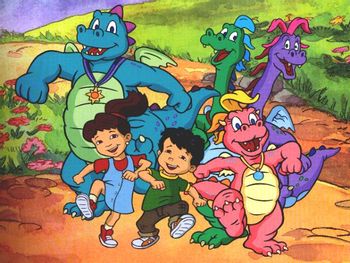 "I wish, I wish, with all my heart,
To fly with dragons, in a land apart!"
Dragon Tales was an animated Sesame Workshop and Columbia TriStar/Sony Pictures show on PBS Kids. Its original run lasted from 1999 to 2005. Repeats were also seen on PBSKids Sprout, but are no longer being broadcast (it was taken off the air on August 31, 2010), though a number of DVD releases remain available. In early August 2022, the first two seasons of the program were added on Amazon Prime. Notably, the premiere episode appears to be sourced from a PBS master and includes promos and the Dragon Tunes segment. Additionally, the second episode, despite being listed as "To Kingdom Come & Goodbye Little Caterpoozle" is actually a 70 minute copy of the Adventures in Dragon Land DVD. Later in the month, the third season was added as well.
Max and Emmy find a magical dragon scale upon moving into their new home. By reciting an engraved rhyme, the magic sends them to Dragon Land, where they meet and play with their new magical dragon friends: Ord, Cassie, Zak and Wheezie (the latter two are a two-headed dragon). They are also often accompanied by the Cool Old Guy dragon Quetzal, and in later seasons, they are joined by their friend Enrique, a boy of Emmy's age who moves next door from Colombia.
Not to be confused with Dragon Tails, although coincidentally both were released in the same year (and both ended/stopped reruns in the same year - 2010)
---
Dragon Tales provides examples of:
---
"I wish, I wish, to use this rhyme,
To go back home, until next time."
---