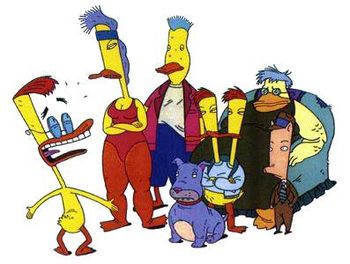 "What the hell are YOU starin' at?!"
Duckman: Private Dick/Family Man (1994-1997) is an Animated Series from Klasky-Csupo that aired on USA Network; starring Jason Alexander as the titular Duckman. Duckman is the cheapest, sleaziest, most incompetent private investigator in the world; he's also a lousy father, a small-time crook, and... a duck. He and his family are all walking, talking, tax-paying note Well, Duckman never pays his taxes, but you get the idea. ducks, and Duckman's hyper-efficient (and humorless) assistant Cornfed is a pig, despite the fact that this is not a DuckTales-type animal world. While Duckman himself walks around naked in the tradition of Daffy Duck, everyone else wears clothes.
Very crude (right down to the deliberately ugly character designs), very cynical and very, very surreal — sort of like if Luis Buñuel had made Beavis and Butt-Head (a show also produced by a division of Viacom) — it freely mixed low-brow riffs with the abstract and the intellectual. The show has an ardent cult following, and a lot of its fans are still stewing over the final episode's cliffhanger.
Created by the late Everett Peck, who would later move on to create Cartoon Network's Squirrel Boy (in the interim he did design work for a bunch of shows for Sony Pictures Television).
The series also inspired a relatively obscure Point-and-Click Adventure Game adaptation called Duckman: The Legend of the Fall, released in 1997.
---
What the hell are YOU starin' at?! Go look at some tropes, you jerks!
open/close all folders
A-F
G-L
Gainax Ending: In "Haunted Society Plumbers" Duckman & Cornfed are pretending to be plumbers working at a classy soiree. They end up trying to find a thief who had stolen a supposedly cursed diamond. Cornfed eventually saves the day by projecting a special-effects ghost to scare the thief into confessing. The owner of the diamond offers the duo a box of donuts as reward. A second ghost comes into the scene and scares everyone away. The ghost is revealed to be Homer Simpson wearing a sheet, who begins eating the donuts before saying into the camera Duckman's trademark phrase "what the hell are you staring at?!" Cue credits.
M-R
In "It's the Thing of the Principal", Duckman and Cornfed try to get into the vice principal's office of Ajax's school, all to no avail. But the second Duckman mentions God in passing, a school cop confronts Duckman and says he won't stand for prayer in public school, and that he has to go to the vice principal's office.
In "Forbidden Fruit", an episode about sexism, Hebrew will now be known as "We-brew" and a sewer worker was charged with sexual misconduct for referring to his "manhole".
S-Z
---