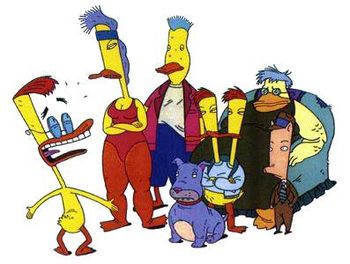 "What the hell are YOU starin' at?!"
Duckman: Private Dick/Family Man (1994-1997) is an Animated Series from Klasky-Csupo that aired on USA Network; starring Jason Alexander as the titular Duckman. Duckman is the cheapest, sleaziest, most incompetent private investigator in the world; he's also a lousy father, a small-time crook, and... a duck. He and his family are all walking, talking, tax-paying note Well, Duckman never pays his taxes, but you get the idea. ducks, and Duckman's hyper-efficient (and humorless) assistant Cornfed is a pig, despite the fact that this is not a DuckTales-type animal world. While Duckman himself walks around naked in the tradition of Daffy Duck, everyone else wears clothes.
Very crude (right down to the deliberately ugly character designs), very cynical and very, very surreal — sort of like if Luis Buñuel had made Beavis and Butt-Head (a show also produced by a division of Viacom) — it freely mixed low-brow riffs with the abstract and the intellectual. The show has an ardent cult following, and a lot of its fans are still stewing over the final episode's cliffhanger.
Created by Everett Peck, who would later move on to create Cartoon Network's Squirrel Boy (in the interim he did design work for a bunch of shows for Sony Pictures Television).
---
What the hell are YOU starin' at?! Go look at some tropes, you jerks!
open/close all folders
A-F
G-L
M-R
S-Z
---