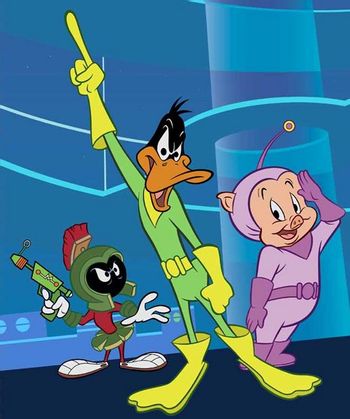 Duck Dodgers is a 2003-2005 animated TV series based off the classic 1953 Looney Tunes short, Duck Dodgers in the 24½th Century, by Chuck Jones. The series originally aired on Cartoon Network, with the last few episodes premiering on Boomerang after its cancellation.
It was especially notable among Looney Tunes properties as the main star was not Bugs Bunny, but Daffy Duck, as Captain Duck Dodgers: a Small Name, Big Ego now forced into full-on Genius Ditz mode as the noble defender of the Galactic Protectorate... while still being kind of a jerkass. All of which led to the unusual situation of the main character filling the role of both The Hero and The Millstone, as nearly half the situations to be resolved were directly Dodgers' fault to begin with.
He is paired with Porky Pig, who reprises his role as the sensible, competent and Eager Young Space Cadet. The show also stars returning opponent Marvin the Martian as Ineffectual Sympathetic Villain Commander X-2.
Duck Dodgers also had several cameos by established Looney Tunes stars with appropriate science-fiction trappings (Wile E. Coyote plays a very obvious Predator homage in one episode), often using them to lampoon or satirize the very genre they were portraying in classic Looney Tunes style. The episode "The Green Loontern" is notable for featuring the Green Lantern characters from DC Comics after Duck Dodgers accidentally gets Hal Jordan's outfit at the cleaners. Notably, this episode turned out so popular that Daffy as the Green Loontern is a playable character in LEGO Batman 3: Beyond Gotham, with Joe Alaskey reprising his role as the duck (it would later become his final role as Daffy before his untimely death in February 2016).
Despite its short shelf life, this show managed to gain a widespread and devoted fanbase, largely for pulling off exactly what more ambitious attempts at modernizing the Looney Tunes could not: conveying their distinctive brand of, well, looniness into an entirely different genre.
After a decade of Keep Circulating the Tapes, the first two seasons were finally released on DVD compilations, and several years after that season 3 was made available on Boomerang's digital subscription service. It is also scheduled to have a full series Blu-Ray release in 2023.
---
Duck Dodgers provides examples of the following tropes:
---