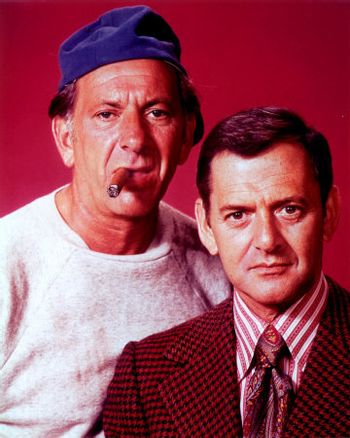 "On November 13th, Felix Unger was asked to remove himself from his place of residence; that request came from his wife. Deep down, he knew she was right, but he also knew that some day he would return to her. With nowhere else to go, he appeared at the home of his friend, Oscar Madison. Several years earlier, Madison's wife had thrown him out, requesting that he never return.

Can two divorced men share an apartment without driving each other crazy?"
The Odd Couple is an ABC sitcom which ran from 1970–75. It was devised by Garry Marshall, based on the 1965 Broadway comedy play by Neil Simon and its 1968 movie adaptation. It was the first series produced by Paramount Television that was based on one of the studio's films (as well as the beginning of Marshall's relationship with Paramount which would go on to encompass both TV and film); PTV predecessor Desilu Studios had produced The Greatest Show on Earth, inspired by the 1952 Paramount feature The Greatest Show on Earth, before Desilu became Paramount's TV division.
Neat Freak photographer Felix Unger (Tony Randall) is kicked out by his wife, and with no place else to go, must move in with his friend, sports writer Oscar Madison (Jack Klugman), a total slob. The TV show added a small supporting cast, including Murray (Al Molinaro), a dim-witted but lovable police officer.
The series was followed by a 1993 reunion special, The Odd Couple: Together Again.
The success of the series inspired several other TV adaptations of the premise, including The Oddball Couple, a 1975 animated series starring a cartoon dog and cat, The New Odd Couple, a 1982 sitcom with black actors in the lead roles, and The Odd Couple (2015), a 21st-century setting update.
---
This TV series contains examples of:
And even then, Felix doesn't know when to quit until he has angered the judge enough for him to indict both Felix and Oscar with contempt of court.
The wedding is rescheduled for the next day, and when the same part of the ceremony is reached, the same objection is raised... this time by Oscar himself, who, in spite of everything, realizes that Felix was right and he can't let this continue.