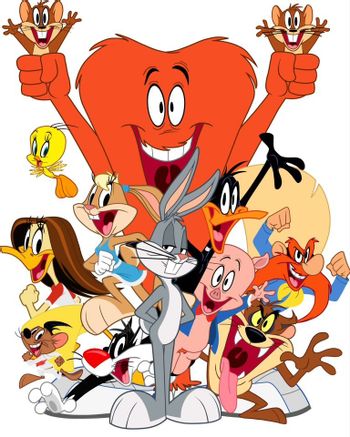 A show that premiered in 2011 on Cartoon Network as another recent attempt at reviving the Looney Tunes and Merrie Melodies franchise. This time, the classic characters are placed into a low-key, Slice of Life sitcom, where Bugs Bunny is stuck sharing a house in a suburban neighborhood with a freeloading Daffy Duck, and the rest of the Looney Tunes are all neighborhood friends. Taz is Bugs' pet, Yosemite Sam is the annoying neighbor, and Speedy Gonzales runs a pizza place (and lives in Bugs' house). Wile E. Coyote and the Road Runner are still in their own separate shorts in the desert, but are computer animated this time. note but still make a few cameos in the regular show, such as Wile E. being in the therapists waiting room in "Point, Laser Point" Both are interspersed with Merrie Melodies original music videos showcasing other characters.
After several delays, it finally premiered on May 3rd, 2011. The second and final season premiered on October 2nd, 2012, where the characters were slightly redesigned and the CGI Road Runner cartoons were discontinued. Having mixed reviews and lukewarm ratings during its run, the show was put on hiatus in 2013. It was followed by Wabbit: A Looney Tunes Production in 2015.
This show is not to be confused with the Cartoon Network installment show that aired the original shorts.
Out of nowhere, Warner Bros. Animation announced a DVD/digital-only The Looney Tunes Show movie coming in 2015, about Bugs and Lola globe-trotting the world to retrieve an invisibility spray Lola invented before their enemies get hold of it first. The result, Looney Tunes: Rabbits Run, wasn't directly related to this series, but was similar enough to serve as a Stealth Sequel.
---
Tropes Related to this series:
open/close all folders
Tropes A
Acrophobic Bird: Daffy.

Daffy: (on a hang glider)

Wow! I'm

flying! I'm like a bird!

Wait, I

am

a bird.

I'm...like a plane!

Also, Daffy cannot swim, as revealed in "Bobcats on Three," despite being a duck!

Acting for Two: In-universe when Daffy ends up playing all the roles in The Foghorn Leghorn Story.

At the end of "A Christmas Carol", Bugs ends up having to play all the roles in the play.

Action Girl: Granny as a spy in WWII.
Actor/Role Confusion: In "Off Duty Cop", Daffy is unable to understand that his favorite character Steve St. James is actually an actor named Leslie Hunt, so he decides to become Steve St. James himself.
Adaptational Modesty: Lola Bunny. Despite her Girliness Upgrade, Lola's seductiveness and Ms. Fanservice traits from Space Jam are removed in this show, although she's still cute in a non-sexual way in order to match her kooky and quirky personality.
Adaptational Ugliness:

When Bugs has dressed in drag before, he's always been treated as a bomb shell. Whenever he does it in this version, he's typically called out as being ugly. Except for Speedy.

Adaptation Decay: Parodied in "A Christmas Carol" with, well, A Christmas Carol. Lola's play of the story is so far removed from the original that it's unrecognizable.
Adaptation Name Change: Witch Hazel becomes Witch Lezah.
Adaptation Personality Change:

Lola. in Space Jam she was a tomboyish girl who loved sports and didn't take kindly to being hit on or being called "doll", here she's a Cloudcuckoolander with a Motor Mouth, constant mood swings, and a huge crush on Bugs.
The Tasmanian Devil was always a sentient (if generally stupid) creature who was more than capable of giving other characters a fair chase while he tries to eat them. In this series... He's a dog. Nothing more. No speaking, no sentient intelligence. He's still a dangerous wild animal, but he is very quickly tamed and turned into Bugs' pet dog. Reconstructed in "The Ridiculous Journey", where he not only speaks but is back to his classic incarnation. Though it can be attributed to Animal Talk to a degree as the ones he speaks prominently with are Tweety and Sylvester, who themselves only speak directly to Hugo and Beaky Buzzard but no one else in the episode.
Gossamer is no longer an angry, mindless monster and is instead a... polite, naive, little boy?
His mother Witch Lezah. She looks like Witch Hazel, but she's not the crackling laughing mad witch always trying to kill someone for an ingredient to her potion anymore; she's just a doting mother.

Adaptational Heroism: Yosemite Sam, Foghorn Leghorn, Marvin the Martian (even though he's still plotting to destroy the Earth), Witch Lezah, Gossamer, and Pete Puma (who was originally an antagonist of Bugs) were all nicer than their counterparts in the original shorts.
Adaptational Villainy: Cecil Turtle. In the original shorts in which Cecil starred alongside and against Bugs, he was generally a foil to Bugs, although he was just as ruthless and cunning as him in competition. In this adaptation, he is given an extremely jerkass personality reminiscent of the various antagonists that justifiably deserve Bugs' Karmic Trickster antics.
Adaptational Wimp: In the original shorts, Porky was the snarky straight man to Daffy. Here he's more of a doormat to him.
Aerith and Bob: Daffy has a talent for making up lame fake names on the spot for Bugs.

In "Jailbird and Jailbunny", he and Bugs have to sign under fake names while staying at a motel. "I'm Count Leopold von Liechtenstein! ...And this is Randy."
And again in the episode "Reunion", but rather he pulls a strange one-man case of this. Going into the reunion, a man taking roll asks for his name to which he replies once again, "I'm Count Leopold von Liechtenstein!" The man asks him how to spell that and Daffy gives him a blank look before replying, "Bob Jones." The man asks, "Well, which one is it?" To which Daffy replies nervously, "Both!"
Receives a Call-Back when Lola tries to come up with a name for the Gopher she bought: "I'm thinking either Count Leopold von Liechtenstein or...Don." Bugs advises her to go with the latter.

Affably Evil: Marvin the Martian. He believes in being polite, but also shoots people with laser beams.
All Animals Are Dogs: In "Devil Dog", Bugs staunchly insists that Taz is a dog, whom he dubs Poochie. Speedy teaches him a dog-training trick, but cautions that it only works on dogs, and he's not convinced Poochie is one.

Mild example: Daffy wags his tail happily after "trying" to become a better friend on Besties.

All-CGI Cartoon: The new Road Runner/Wile E. Coyote shorts.
The Alleged Car: Daffy's Parade Float. The Merrie Melodies song about it highlights its status with lyrics like "Parade Float, the AC blows hot. Parade Float, the transmission is shot". Or "It won't go over twenty-five" and "it tends to catch on fire".
All for Nothing: Bugs' entire plan to get out of going to the Peach Festival with Porky entailed inventing a female relative, wasting several hundred dollars on shipping fees to his own house and getting imprisoned in Albania by accident for a year leads to him right back to being in time for next year's Peach Festival.
All Girls Want Bad Boys:

Bugs tries to break things off with Lola by dressing up as a woman and pretending to be an ex-girlfriend. This backfires and just makes her want him more.
Played straight in "Rebel Without a Glove", where Bugs Bunny becomes Thugs Bunny, a biker, which makes Lola love him even more still.

Alternate History: According to Granny, she took part in World War 2 shortly before the Allies freed France from Germany. Her mission ended up fighting to prevent the theft of the Eiffel Tower and after returning it,

was gifted it to take home while a replica was quickly placed in Paris.

Ambiguous Disorder: It's implied Daffy has genuine mental problems in addition to being really stupid.
Ambiguously Gay: Mac and Tosh, the Goofy Gophers.

Ambiguously Bi: In the episode "Double Date", Porky was quite excited to accept a date from Daffy after the latter won a romantic dinner. (Daffy asked Bugs first, then called Porky.) When Daffy came by in a limo with his chosen (female) date, Porky wasn't upset; in fact, he was happy that Daffy remembered to come by, and had went so far as to buy flowers. (It was only when Daffy took the flowers and left him sitting on the curb that Porky became sullen and said he needed to get a girlfriend.)

And Call Him "George"!: In "Ridiculous Journey", the trope is surprisingly not played by Hugo the Abominable Snowman the Trope Namer and Codifier. It's instead played straight by Junior Bear who Henry implies has happened before.
And Now For Something Completely Different: "Casa de Calma" which resembles more like classic Looney Tunes setup than a sitcom. Also "Ridiculous Journey" which is a roadtrip involving the "pet" characters journeying home ala Homeward Bound while meeting other Looney Tunes characters that haven't been used in the show before, instead of the regular cast of Bugs and Daffy.
Animation Bump: Invoked in the Merry Melody video ''Daffy Duck: The Wizard''

The episodes done by Toon City during season 1. As are the episodes "Casa de Calma" and the flashback sequences in "Eligible Bachelors", both by Rough Draft Studios.

Animesque: Again, Daffy Duck: The Wizard.
Apocalypse How: A class 5 in a Merrie Melody, Drifting Apart. Mac and Tosh imagine themselves as two pieces of hail falling to the Earth but when they hit they explode into a mushroom cloud. When Mac and Tosh get up, it looks like they're the only living creatures in the local area. But they were hail!
Arc Words: In-universe in Foghorn's movie The Foghorn Leghorn Story—the phrase "It's not about the treasure, it's about the quest" is repeated several times.
Armed Farces: The B Story in "Semper Lie" involves Daffy accidentally enlisting in the Marine Corps. Bizarrely, this turns out to be the one job he is not incompetent at, but he is discharged at the end of the episode for having flat feet. (Because he's a duck).
Art Evolution:

As of season two, the character's designs are now much closer to how they look in other Looney Tunes shows. For example, Bugs is now gray, and his body is taller and thinner. This is possibly in response to the massive backlash fans gave the creators who never stopped pointing out how "wrong" Bugs looked.
Porky became chubbier, with rounder features and overall closer to how he looked in the original shorts.
Even Lola has gone through a little bit of change - between Seasons 1 and 2, her design became more rounded (to match the look of the other characters reverting to their traditional looks), she's now shorter than Bugs (much like her Space Jam version), she's much more curvy (her chest is notably larger in Season 2) and her dress changed from purple and yellow to cerulean and white.
The second season also does away with the "paint splatter" style applied to the background and various elements (such as smoke and fluids) and becomes reminiscent of The Life and Times of Juniper Lee.
Tropes B
Tropes C
Tropes D-H
Tropes I-P
Tropes R-Z
"The Reason You Suck" Speech: During their first date, Daffy obviously lies about himself to try to impress Tina. Tina responds by simply guessing what Daffy's like - accurately listing all of his flaws. Daffy isn't the slightest bit insulted.

Daffy: Wow, you're good.

Recycled IN SPACE!: It's Looney Tunes

AS A SITCOM

!
Red Eyes, Take Warning: Taz, until Speedy domesticates him.
Retired Badass: Granny of all people. She was an Action Girl spy during WWII.
Retool: The series was originally going to be more like "Casa de Calma" but was scrapped in favor of what actually made it to air. The second season ditched the Road Runner shorts, and the amount of "Merrie Melodies" shorts was significantly less than the first season.
The Reveal: Turns out after Granny returned the Eiffel Tower during the war, she was given the real one to take home, with a replica remaining in France.
Rule of Symbolism: Parodied in a flashback, where Daffy releases rats in celebration of Columbus Day.

Daffy: What? The rats represented the Nina, the Pinta and the Santa Maria. If they didn't get it, that's their problem.

Running Gag: Daffy has taken to asking, "What is this, communist Russia?" or "What happened to this country?" when someone requests simple information from him.

People commenting that Bugs makes for an ugly woman when he dresses in drag.
In season 1, Daffy would mistake a male child for a female, but in season 2, he mistook a female pony as a male.
Any time Daffy gets hurt, he usually screams "CALL DR. WEISBURG!"

Sanity Slippage: Porky Pig to varying degrees, especially in "Bugs & Daffy Get a Job".

Bugs gets this in "Off-Duty Cop" after being addicted to a Coffee Alternative called Spargle, only to run out.
Bugs gets another one in "The Shelf." All that attempt to work on a mere shelf for his Nobel Prize, only to go so far as to destroying his own home and looking like he came out of a Slasher movie. Thankfully, Tina managed to rebuild Bugs' house.

Sassy Black Woman: Witch Lezah is technically green, but she has the voice and mannerisms of one.
Satellite Love Interest: Unlike Lola and Tina, Petunia has no definable characteristics beyond being her male counterpart's girlfriend.
Saving Christmas: In "A Christmas Carol", Lola attempts to restore the town's Christmas spirit by staging a production of A Christmas Carol, while Foghorn Leghorn attempts to save Christmas by installing a giant fan at the North Pole (It Makes Sense in Context).
Savvy Guy, Energetic Girl: Bugs and Lola.
Scrabble Babble: In "Itsy Bitsy Gopher", Daffy attempts to play "dovarg", before announcing that he is going to the kitchen as he feels totally "dovarg". In a Strange Minds Think Alike moment, we later learn that Lola invented a type of sandwich that she calls a dovarg. And, at the end of the episode,

Dr. Weinstein mentions it is the name of an anti-inflammatory preparation

.
Sdrawkcab Name: Witch Lezah backwards is Witch Hazel, who was the original Looney Tunes witch.
Self-Deprecation: Daffy willingly admits he's a terrible person several times.
Self-Serving Memory: Daffy in "Reunion". He's managed to convince even himself that his "memories" of being the school Jerk Jock and getting all the girls are true.
Seemingly Profound Fool: Daffy, whenever he becomes Honest Advisor to Foghorn Leghorn.
Semper Fi: Daffy joins the Marine Corps in "Semper Lie".
Serious Business: Daffy, in this show, takes everything way too seriously. He thinks that getting his newspaper is more important than anything (he doesn't read it, he makes his parade float with it) and thinks that if it doesn't arrive one day that means someone stole it, which is justifiable for a neighborhood intervention. He nearly ends his friendship with Porky Pig because he took some fries from his basket- the fries were for everyone.
"Shaggy Dog" Story: Lola tells one about how she broke her leg.
She Is Not My Girlfriend: Bugs to Lola which may have changed after Double Date
Ship Tease: Lola and Daffy. Both are ditzy Cloudcuckoolanders with a tendency to lose focus, and in "Itsy Bitsy Gopher" both seemed to understand each other on the spot (even more than their respective canon love interests) and both even giving snarky comments on Bugs while investigating. When they encounter Tina earlier in the episode, Lola does a weird, unnecessary claim that people tends to become attached through emotional events like investigating but assuring that there's nothing between her and Daffy. Tina responds with a casual "I'm not worried."

In "Double Date", Lola has a temporary crush on Daffy and becomes stalker-ish and jealous at Tina. Up until the end, anyway.

Shipper on Deck: Lola's parents like Bugs and want him to marry Lola.
Shout-Out: Bugs uses this trope to get Daffy's attention by telling Superman's origin, except with Bugs Bunny replacing Superman. It backfires, big time.

There's actually several shoutouts to DC Comics: Daffy claims to be Batman, also wears the costume, there's a similar looking Wonder Woman mannequin in Bugs and Daffy's home, and Bugs mentions the magic word "Shazam" from Captain Marvel. (And Bugs apparently is Batman.)
Just before telling the Superman story, Bugs references the story told in "A Hare Grows in Manhattan" almost word for word.
And in the episode when they went to Jail, Daffy yells, "You got to fight for your right to party!"
In one episode Buster and Plucky appear as dolls at a fair.
In "Blow My Stack", when Sam is walking by the book shelves, the plates on them say "Jones", "Avery" and "Clampett".
Similarly, in "Point, Laser Point," Sylvester goes to get help at the "Freleng Help Center," a reference to classic Warner Bros. animator Friz Freleng, who also happens to be Sylvester's creator.
The entire opening of the episode "Devil Dog" is a huge Shout-Out to the opening of Jurassic Park, as well as the first cartoon in which the Tasmanian Devil ever appeared.
Taz on the wing of an airplane is a reference to The Twilight Zone (1959) episode "Nightmare at 20,000 Feet".
Another horror movie shout out is when we see a point of view of shot from Taz, which is reminiscent of "The Crate" from Creepshow.
Speedy takes part in a Dog Whisperer homage in "Devil Dog".
The horror movie Daffy watches in the above ep is one from Box Office Bunny.
In the Wile E. Coyote/Road Runner episode "Silent But Deadly" both Road Runner and Wily are locked into a direct confrontation with each other, it's laced with Mortal Kombat overtones - Wily's costume akin to Scorpion's outfit, destructive weapons, a dark moonlit night with a fatality to frost the cake!
Granny's younger look in "Eligible Bachelors" has a startling resemblance to Cinderella.
In the same episode when Lola mistakes the Eiffel Tower for Stonehenge, she utters out the familiar line from the end of the Iconic Tootsie Pop commercial.

Bugs: It's the Eiffel Tower.

Lola: The world...will never...know...

In one Road Runner cartoon, Wile E. and Road Runner run through a loop-de-loop on the ground.
The Coyote-Roadrunner short "Heavy Metal" features Wile E. Coyote building a suit from a box of scraps deep inside a cave.
Another Coyote-Roadrunner short "Another Bat Idea" has Wile E. Coyote dressed up in a Batman suit complete with explosive Batarangs, Bat Grappling Hook, a cape that flies, and a small shoutout to Adam West.
The 3-D WB shield overshooting its mark and nearly crashing into the screen at the start of the opening credits is reminiscent of the opening to the classic 3D short ''Lumber Jack Rabbit''.
Bugs is a fan of Groucho Marx (who was a huge influence on his comedy in the old shorts) and, on a more contemporary note, Mary Higgins Clark.
Bugs becoming addicted to an RPG game called "Gribbler's Quest", where the character's suit looks a lot like Link's from The Legend Of Zelda.
In the episode "It's A Handbag", Lola goes off exploring and Aztec tomb dressed up as Lara Croft.

In that same scene, the shot of her about to grab the artifact is very similar to the shot of Aladdin about to grab the lamp, even sharing the same facial expression and pose.

In the Road Runner-Coyote 3D short "Unsafe at Any Speed", it references Back to the Future and 2001: A Space Odyssey.
In "Year of the Duck", Daffy accidentally calls Elmer "Elmo".
Daffy calling himself "Double D" via phone message in "Here Comes the Pig".

Show Within a Show: "Off Duty Cop" and "Tit for Tat".
Sitcom Character Archetypes:

Bugs: Square, Wisecracker and Sage.
Daffy: Stick, Goofball and Bully.
Porky: Square and Goofball.

Lampshaded in one episode where Daffy tries to officially assign everyone their roles within their circle of friends. Needless to say, he both completely misidentifies them and changes their role each time he mentions them.

Slapstick Knows No Gender: Lola, in stark contrast with her Space Jam counterpart.
Vitriolic Best Buds:

As quoted from Bugs, "Daffy, you're a mean-spirited, self-absorbed, disturbed little weirdo, but for whatever reason you're my best friend."
Porky and Daffy too, though the vitriol mostly comes from Daffy—Porky is simply desperate for a friend. Daffy actually calls both Bugs and Porky his best friend at different times, usually when he needs to flatter one of them, and at one point lampshades the fact that he's not too clear on which of them really is his best friend.

We Want Our Jerk Back: In episode 1, Daffy vows to become Bug's best friend ever and becomes... stalker-ish.
Wham Line: In "Customer Service", after being continuously tormented by Cecil throughout the episode, Bugs drops a familiar phrase that signals he's going to be a Karmic Trickster once more for the first time in the series since "Casa de Calma".
Your Other Left: When Daffy is training on a flight simulator in "Spread Those Wings and Fly", his instructor tells him to bear west by five degrees. When Daffy asks which way is west, the instructor says "your left", followed immediately by a panicked "Your other left!". Needless to say, Daffy crashes.
Zorro Mark: Speedy leaves 'S's behind, after his cheese thefts in "Queso Bandito".
---