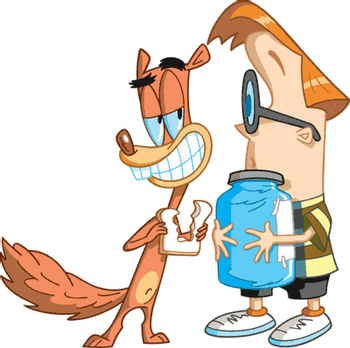 A short-lived
Cartoon Network
animated series,
Squirrel Boy
was created by Everett Peck (best known for
Duckman
). Airing for two seasons and 52 11-minute episodes from May 28, 2006 to September 27, 2007, along with six 2-minute shorts (2006-2008), the series follows the adventures (or misadventures) of the ordinary, fun-loving 9-year-old boy,
Andy
Johnson
and his
reckless, smart-alecky, troublesome
, yet also fun-loving anthropomorphic pet squirrel/best friend,
Rodney J. Squirrel
, who is loaded with
get-rich-quick schemes
and big ideas. Along their adventures, the duo often faces the looming prospect of being
harassed and tormented
by the show's main antagonists,
Kyle Finkster and Salty Mike
, who are also their
Evil Counterparts
.
Other friends include Robert Johnson, the unlucky father of Andy; Lucille Johnson, the cheerful, kind-hearted mother of Andy; Leon, the dim-but-lovable blue squirrel friend of Rodney; Darlene, the Love Interest-then-girlfriend of Rodney; Oscar, an obsessive-compulsive, accident-prone boy and friend of Andy; Martha, the Johnsons' Girl Next Door who thinks she's better than everyone else, but still has some goodness in her; and last but not least, Eddie, Rodney's flying squirrel cousin.
No relation to Squirrel Girl.
---
The trope sells the sandwich!:
Absentee Actor: Mr. J doesn't appear in "Scout's Dishonor", "Outta Sight", or "Stranger Than Friction", Andy is completely absent in the short "Bedside Matters"note , and Mrs. J is absent in far too many episodes to list.
Abusive Parents:

Oscar's parents. Downplayed, as they aren't really abusive; they just shelter him from the most harmless of things and interfere with his ability to have a social life.
Mr. J can slip into this territory at times.

He makes Andy a bench warmer in "Yer Out!", for starters.
In "Islands in the Street", Mr. J shows no regard whatsoever to his own son being victimized by local jerkass Kyle, instead deeming him as a nice guy. Of course, this is just an Idiot Ball moment played for comedy.
At the end of "Harried Treasure", he makes Andy (as well as Rodney, Kyle, and Salty Mike, who aren't even his children) polish and reconstruct every blade that was dismantled from his new lawn, all on such a hot, sunny day. Granted, while Andy did deserve punishment for what he did, he didn't deserve one that cruel and extreme. Plus, the amount of blades that had to be polished would have taken him his whole energy and caused him to suffer from sleep deprivation.
In "He Got Blame", he refuses to let Andy wear any clothes (sans his underwear) for a week for simply having a tiny strain of mustard on his shirt, thereby making him suffer a Humiliation Conga.

Accidental Pervert: In "Treehouse Broken", Rodney and Kyle both create doors that lead to a mysterious location, which is subsequently revealed to be Mr. J's room. The two then accidentally walk in on Mr. J clipping his toenails, with him clearly demanding some privacy.

Mr. J: A little privacy, please?

Kyle: Oh, sorry.

Rodney: Whoops, sorry Mr. J!

The Ace: Jack Royal.

Jack: I don't have any embarrassing problems; I'm Jack Royal! (teeth sparkle)

Acquired Situational Narcissism: This trope is a driving story point of "A Line in the Sandwich" on Rodney's part: Rodney believes that the successful business of his and Andy's sandwich-selling cart is due to the silly chef hat that he is wearing and constantly brags about it throughout, jeopardizing his and Andy's friendship.
Adults Are Useless: Just about every adult character on this show has been portrayed as a bumbling idiot with little to no common sense.

Scoutmaster Witherbones, Andy's scoutmaster in "Scout's Dishonor", accuses Andy of harassing Kyle when clearly it's the other way around.
Oscar's parents are overprotective to polarizing extents and shelter him from the least harmful of things, while paying no attention to his little sister, Lulu, who does things even more unhealthy and dangerous things than Oscar, like obsessively hugging squirrels tightly.
Mrs. J means well, but is usually too much of an Extreme Doormat to discipline Andy when he deserves it, and unlike her husband, she abnormally tolerates Rodney's mischievous behavior.
Kyle's parents view him and Salty Mike as angels despite their blatant sociopathic behavior.
Mercifully, there are a few aversions of this trope; Mr. J immediately comes to mind, as he seems to be the only rational person in this universe full of idiots and weirdos. Well, for the most part anyway...

Affably Evil: Salty Mike is not much of an asshole as his companion, Kyle; Salty even falls victim to Kyle's bullying at times (e.g. "Islands in the Streets", "Stranger Than Friction"), and he has shown several Pet the Dog moments.
Anti-Hero: Rodney isn't necessarily a hero, but he is The Protagonist, and his attempts to save the day either backfire on him or create an even bigger conflict.
Anti-Role Model: Rodney isn't a character one should look up to, for he is an unmannerly, self-centered, trouble-making, and irresponsible smartass.
Antiquated Linguistics: At the beginning of "Screw Up in Aisle Six", Andy and Rodney roleplay as British people talking in an old-fashioned manner.
Are You Pondering What I'm Pondering?:

"Maybe. Are you thinking there's an untapped market for edible socks?"

Asshole Victim:

Rodney usually meets a horrible fate or falls victim to slapstick, and it's usually deserved due to his Jerkass tendencies.
Any time Kyle and Salty Mike suffer, it's because they deserve it.

Ax-Crazy:

Archie

, Kyle, and the crazy dog.
Balloon Belly:

Rodney gets one after eating a birthday cake he made for Andy in "Birthday Boy", and also gets one in both "Freaky Furday" (from eating several various foods) and "The Rod Squad" (after eating several Sticky Buns). He also gains a pretty big amount of weight in "Endangered Species Twist" after being spoiled rotten by Andy and Mrs. J.
Not only does Andy swell up after eating cashews, but his belly becomes exceptionally fat and circular, turning him into a ball that Rodney rolls around the store. This is a plot device of the episode "Screw Up in Aisle Six".
When Mr. J accidentally eats an unspecified flavor of pie at the end of the same episode, he swells up severely as an allergic reaction.

Bandito: Salty Mike becomes one in "Gumfight at the S'Okay Corral".
Baseball Episode: "Yer Out!".
Big Bad Duumvirate: Kyle and Salty Mike, a Big Bad duo.
Big Eater:

Rodney is usually seen stuffing his face with loads of food. He eats a whole plate of food samples in "The Big Haggle Hassle" and "Screw Up in Aisle Six", as well as a giant birthday cake and a dozen boxes of Sticky Buns in "Birthday Boy" and "The Rod Squad" respectively. He also eats various foods in "Freaky Furday".
Mr. J always competes in the annual cheesy cheese log eating contest held at the fair.

Big "NO!":

Andy lets one out after Ranger Stu informs him that he'll be going into "the pit" in "Scout's Dishonor".
Rodney and Andy let out a slow, low-pitched one when the angry clown statue is about to break in "The Big Haggle Hassle".
Towards the end of "Outta Sight", this is Rodney's reaction to Andy regaining his glasses.

The Big Race: This trope is the central theme of "Rolling Blunder".
Birthday Episode: "Birthday Boy" is an episode centered around Andy's birthday.
Bizarre Taste in Food: In "Treehouse Broken", it's shown that Leon's favorite flavor of cake is wasp nest.
Blind Without 'Em: Andy can't see without his glasses, as "Outta Sight" makes perfectly clear.
Bookends: The episodes start with a title card with the opening and closing notes of the Theme Tune playing, and usually end with the closing notes of the song.
Born Unlucky: Mr. J. He has horrible luck, with barely anything ever going right for him or anything good ever happening to him; for example, if he plans to buy a clown statue for his collection, it breaks; if he fixes up his lawn real nice, it gets destroyed; if he's working on a speech to perform, he loses his voice. Did we mention he once broke every bone in his body and then caught a cold on top of that? "Frag the Dog" lampshades this by having his trophy state that it's the only one he's ever won in his life and probably ever will. See Butt-Monkey, The Chew Toy, and Cosmic Plaything below.
Bottle Episode: "Tree for Two" takes place purely in the park and only three characters appear in person (Andy, Rodney, and Mr. J).
The Bully:

Kyle and Salty Mike; they frequently target Andy and Rodney for no apparent reason.
In "Bully, for You", there's a bully squirrel named Butch who kicks Leon out of his own house and stays in it.

Butt-Monkey:

Bob "Mr. J" Johnson is very much this. He has to put up with an annoying, troublesome squirrel who makes his life hell and has pretty horrible luck. Granted, he doesn't have it so bad in some episodes, but in a large amount of episodes he's in... he's not having a very great time to say the very least.
Rodney and Andy are also subjected to this trope fairly often.
There's also Oscar, who not only suffers the misfortune of having extremely overprotective parents who barely let him do anything at all, but is also a frequent subject of unfortunate, humiliating, and painful gags.

Call-Back: Rodney's silly pirate hat from "A Line in the Sandwich" has been occasionally referenced in subsequent episodes.

In "Harried Treasure", when Andy and Rodney are unexpectedly woken up in the middle of the morning by Mr. J, a startled Rodney utters "The hat sells the sandwich".
During the treehouse building montage in "Treehouse Broken", Rodney can briefly be seen running across the screen while wearing the hat.
In "New It or Lose It", one of the headlines in Andy's newspaper says "Rodney wrong about himself again", underneath which a picture of Rodney wearing the silly pirate hat is shown. This is yet again another reference to Rodney's claim that his "hat sells the sandwich".

Child Prodigy: Martha is very savvy when it comes to hardware.
The Chew Toy:

Mr. J. BIG TIME. He's almost always tormented for the sake of comedy, whether it be amusing misfortunes or annoyance at the hands of Rodney.
Andy and Rodney endure a decent amount of slapstick, which us viewers are clearly supposed to be amused by.
Oscar is the butt of many painful gags and misfortunes, which are clearly meant to be funny.

Cloudcuckoolander:

Rodney is pretty goofy and eccentric.
And so is Leon.
Andy also has some idiosyncrasies, in addition to taking part in Rodney's bizarre games and whatnot. Downplayed, though, as they're only occasional Played for Laughs jokes.

It's revealed in "Tree for Two" that he once had a habit of biting his nightstand.
In "Trouble Date", he wants the option to spit in front of Martha while on a date with her for no reason other than that he likes it.
In "The Big Haggle Hassle" Andy makes sure his hands are squeaky-clean before making a purchase at the flea market, even referring to it as an "ancient" ritual he had "just" found.

Cosmic Plaything: Mr. J's Butt-Monkey status can reach extreme, absurd levels.
"Could Have Avoided This!" Plot: These are caused a lot due to Rodney's irresponsibility and dumbassery.

The conflict of "The Rod Squad" would not have happened had Rodney confessed to eating all the Sticky Buns and accepted the consequences. He even lampshades his lack of responsibility while hiding from Mrs. J.

Mrs. J: Oh Andy you're going to be in big trouble for eating all our Sticky Buns!

Rodney: [thinking voice] Okay, so taking responsibility for my actions is clearly out of the question. But I can't let Andy get blamed either!

The short "Bedside Matters" wouldn't have happened if Mrs. J didn't mix up her grocery list and the treatment list for Mr. J.

Cowboy Episode: "Gumfight at the S'Okay Corral".
Deadpan Snarker:

Mr. J, like most Only Sane Man characters.

Mr. J: Not that crazy.

Andy also has his occasional delivery of witty, sarcastic remarks, mainly in response to Rodney's idiocy.

Department of Redundancy Department: The show seems to rely on repetition as its main source of humor.

In "The Big Haggle Hassle":

Rodney: (to the "Angey" clown statue) Man, that thing is uuuugly, with a capital... (beat) letter!

In "Trouble Date":

Martha: Having fun is... (beat) fun.

In "Andy Had a Little Squirrel", Mr. J participates in a cheesy cheese log eating contest.

Depending on the Writer:

Andy is either decently rational and intelligent, and the voice of reason to Rodney (if a bit eccentric and fun-loving himself), or a headstrong idiot with barely any common sense.
Mr. J is either fairly amiable and a good father to Andy, as well as the Only Sane Man of the show, or an idiotic jerkass of an Abusive Dad. His usual Only Sane Man role also varies, as there are moments where he holds the Idiot Ball (e.g. deeming Kyle as a Nice Guy right after he breaks his car's cup holder in front of him, not letting Andy wear clothes for a week just because he has a stain of mustard on his shirt, etc.) and/or has some sort of eccentricity that shows he's Not So Above It All (e.g. talking to his clown statue collection as if they're real people, putting fish on his ice cream, etc.). How much of a Butt-Monkey he is also varies; a lot of episodes have him put through hell or suffering some sort of bad luck in one way or another (e.g. "The Endangered Species Twist, "More Flower to You", "Speechless", "Birthday Boy", "Harried Treasure", "The Big Haggle Hassle", etc.), while in some episodes, nothing really happens to him at all (e.g. "Island in the Streets", "Tree for Two", etc.).

Deranged Animation: The animation has a bizarre style to it, with many misproportioned features and stiff character movements.
The Ditz:

Rodney. Where to begin?
Leon also isn't the sharpest tool in the shed.

Dogs Hate Squirrels: Rodney along with his friends would often be attacked by a vicious Angry Guard Dog referred to as the "Crazy Dog". This got deconstructed in a later episode where they run into his formerly vicious brother who shares the house with the aforementioned hound. Although he's a Nice Guy, he ends up getting frequently beaten up by the guys, because they have him mixed up with the Crazy Dog who's attacking them at the same time.
Do You Want to Haggle?: Parodied in "The Big Haggle Hassle": Instead of haggling for more, Rodney haggles for less, as exemplified when he paid a guy 5 dollars to gain admission to the flea market instead of just two as required.
Early Installment Weirdness:

The color scheme was brighter in early episodes, and the character designs where a little inconsistent (watch "Tree for Two" for instance).
Despite her appearing in the show's intro, Andy wasn't depicted with a mother until four episodes later in "Andy Had a Little Squirrel", despite him having a dad.

Eating Contest: A cheesy cheese log eating contest is held at the fair annually, as seen in "Andy Had a Little Squirrel".
Episode Title Card: The first seasons' episodes began with a title card containing an orange background and pictures of Andy and Rodney, while the second season had title cards with a blue background and sketches of the ensemble cast.
The Everyman: Andy is an ordinary and generic little boy with not much personality. See The Generic Guy below.
Exposed Animal Bellybutton: Rodney and Leon have them.
Expy:

Andy's character design is seemingly based off that of the title character from Everett Peck's previous animated series, Duckman.
Puffy Pirate Shirt Puffs and it's mascot, Captain Puffy, from the episode "Harried Treasure" seems to be a homage to the cereal Cap'n Crunch and its mascot of the same name.

Extreme Doormat: Andy's mother, like most housewife characters, is one, often forgiving to her abuse and gleeful by default.
Extreme Omnivore: "News It or Lose It" reveals that Rodney drinks Mrs. J's bath water, thinking it's nail polish. He also drinks radiator sludge in "What's Sung Is Sung", thinking it's chocolate milk; even after Mr. J tells him what it is, Rodney still enjoys it.
Eye Glasses: Andy's character design makes it look like his pupils are on the back of his lenses (though that doesn't seem to be the case when they're taken off).
Fat Bastard: Kyle.
Fat Best Friend: Kyle to Salty Mike; Leon to Rodney.
Fat Idiot: Kyle and Leon.
Fat Slob: Leon tends to slack in his messy treehouse all day eating junk food.
Flanderization: Rodney wasn't much of a Butt-Monkey in the first season, only receiving occasional moments of slapstick and bad luck. Even when he did, they weren't the main focus of the episode (sans "Tree for Two" and "Born to Be Wild"). By the second season, however, the show pretty much made him suffer every 5 seconds, with there even being times were his doesn't deserve it.
Forgetful Jones: In "Birthday Boy", Rodney makes a giant cake for Andy's birthday and then eats all of it five seconds later, forgetting who it's for.
Four-Fingered Hands: Surprisingly averted with pretty much every character, including the animals. The animals, however, mostly have three toes on each foot. Rodney's cousin Eddie has four toes.
The Gadfly: Rodney has shades of this.
Gag Series: This show lives and breathes on comedy and jokes.
Gang of Bullies: Kyle and Salty Mike are two bullies who harass and torment Andy and Rodney for no apparent reason.
The Generic Guy: Andy does not have much of a describable or distinctive personality.
---