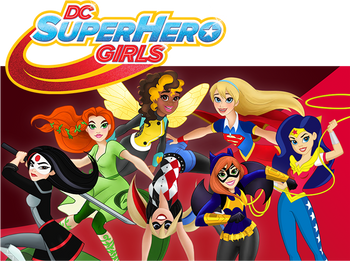 "Get your cape on
And let's take flight
We can be who we like
Get your cape on
Now's the time
Save the world from crime
Get your cape on
We're DC Super Hero Girls!"
— Opening theme
DC Super Hero Girls (later renamed DC Super Hero Girls: At Super Hero High) is a 2015 Web Animation series created by Warner Bros: Animation, DC Comics, and Mattel. Along with the animated specials, the webisodes are tie-ins to the girl-centered DC Super Hero Girls franchise.
At Super Hero High, Principal Amanda Waller and her staff focus on training the iconic, adolescent versions of well-known DC Comics superheroes (and villains) during their formative years to become the next generation of heroic protectors. The school's newest student, potential Themyscira ambassador Diana, must learn the ropes of high school with her new-found classmates through their united friendship.
Webisodes and behind the scenes videos can be found on their YouTube page here.
The main site is also here
. Not to be confused with the television series of the same name from Cartoon Network, which has a completely different continuity based more on Lauren Faust's Super Best Friends Forever shorts. The continuities are generally divided by their showrunner (Shea Fontana for the Super Hero High series, Lauren Faust for the one based on SBFF).
The webisodes were broadcast as "bumpers" between scheduled programs on Boomerang until 2019, when it was entirely replaced by shorts from the continuity of the aforementioned television series of the same name.
---
Characters featured
---
DC Super Hero Girls provides examples of:
---