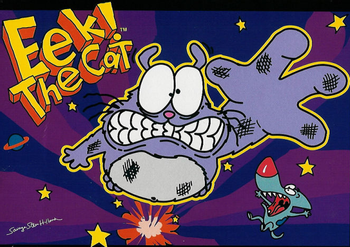 Eek! The Cat is a American/Canadian animated series, created by Savage Steve Holland and Bill Kopp, that ran from September 12, 1992, to August 8, 1997 on Fox Kids. It was retitled Eek! Stravaganza in 1994.
The series mainly revolves around an optimistic purple housecat named Eek, whose motto is "it never hurts to help". This generally turns out to be untrue, as this attitude generally gets him into trouble, from which much of the humor of the show is derived. Other characters include Eek's human family, who don't understand animal language; Sharky the Sharkdog, who is irritated by Eek's oblivious enthusiasm for everything and chases him at the drop of a hat; and Eek's girlfriend, Annabelle, a rather big cat whom Eek loves and Sharky protects.
The show later added two different segments. The first of these was The Terrible Thunderlizards, which focused on a trio of dinosaurs trying to destroy a pair of oblivious cavemen, Bill and Scooter, while also fighting an evil tribe of skeletal dinosaurs called the Thugasaurs. The second was Klutter, which was about a bunch of neighborhood kids and their living pile of junk and clothing. Klutter was produced by Film Roman, with some of the creative team from The Critic behind it (including David Silverman as the boy's dad), as opposed to Eek! and Thunderlizards, which were produced by Nelvana.
---
Eek! The Cat provides examples of:
Wild Take: Everybody in this show performs exaggerated facial expressions when shocked, startled or horrified.
Yandere: Alice from the fittingly named, Fatal Eektraction.
---
EEK!
---