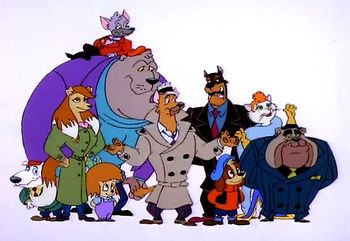 Bruno: How'd a loser like you create a great character like Bugsy?
Eliot: Well, sometimes it's just staring you in the face.
Dog City is a Canadian-American animated/Muppet series based on a half-hour special from The Jim Henson Hour of the same name. The special was popular enough to become a full-fledged series produced between The Jim Henson Company and Nelvana that aired on Global Television Network in Canada and Fox Kids in the United States for 3 seasons and 31 episodes between 1992 and 1994.
The original special starred a German Shepherd named Ace Yu facing a bulldog gangster named Bugsy Them (known as the Dogfather) in the eponymous Film Noir environment, a city populated by anthropomorphic dogs. In the animated series, Ace Yu became the private eye Ace Hart, while Bugsy Them became Bugsy Vile. Ace, with the help of the beautiful police chief Rosie O'Gravy and excitable paper boy Eddie, would thwart crimes and solve cases around Dog City, usually the misdeeds of Bugsy and his thugs or the dastardly Baron Von Rottweiler.
These animated adventures would be fairly straightforward pastiches of the Film Noir genre if it wasn't for the puppetry segments interspersed between them. You see, an animator named Eliot Shag (also an anthropomorphic dog) illustrated Ace's stories as they happened, with Ace often discussing the plot and its tropes with Eliot and Eliot making changes to the story that could help or hinder Ace. Eliot also regularly interacted with the other residents of his apartment, with many of them serving as the basis for characters in Ace's adventures.
The third season added some additional segments involving other shows that Eliot animated for, such as quick shorts featuring the characters in different situations, as well as a superhero spoof called Watchdog.
Every episode is up on Youtube, courtesy of Nelvana's Retro Rerun. Check them out here!
---
Dog City included examples of:
---