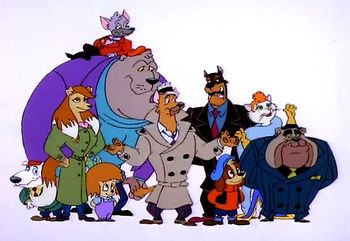 Bruno: How'd a loser like you create a great character like Bugsy?
Eliot: Well, sometimes it's just staring you in the face.
Dog City was an animated/Muppet series on the Global Television Network based on a half-hour segment in The Jim Henson Hour. The original "Dog City" was about an anthropomorphic German Shepherd named Ace Yu, facing bulldog gangster Bugsy Them (the Dogfather) in a film noir environment, and in 2010 was released on DVD from Lionsgate, excluding the Jim Henson Hour part. The episode was popular enough to become a full-fledged series on Fox Kids with Nelvana providing the animation.
In the series, Ace became private eye Ace Hart, and Bugsy became Bugsy Vile. They also became cartoon characters, with the original puppet versions becoming Eliot Shag, the cartoonist, and Bruno, the super of his apartment building. Other characters from the special were transplanted similarly; the character appeared in the cartoon, and the puppet appeared as someone in Eliot's building, supposedly inspiring him to create the animated version. Ace and Eliot would also have conversations with each other about the progress of the stories and how Eliot uses what he draws in the cartoon to solve problems in his real life. Dog City no longer aired on the Global Television Network until August 1997.
---
Dog City included examples of:
Special:
The series:
---