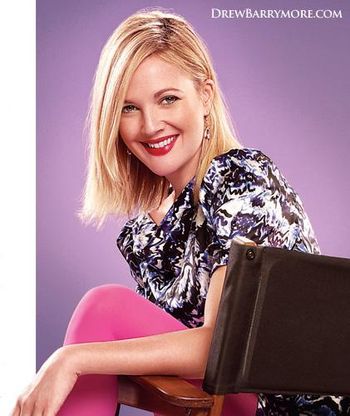 "I never regret anything. Because every little detail of your life is what made you into who you are in the end."
Drew Blyth Barrymore (born February 22, 1975 in Culver City, California) is an American actor, film producer and film director. She was a child actor coming from a famous acting family—nay, from acting royalty
—and the granddaughter of John Barrymore and grand-niece of Lionel Barrymore. Her first main role was in the film E.T. the Extra-Terrestrial. She is Saturday Night Live's youngest female celebrity host (Barrymore hosted when she was seven years old in 1982, half the age of SNL's former youngest female host, Jodie Foster, who was 14 when she hosted in 1976) and (for a time) the only other female member of SNL's "Five Timers Club" (a club for celebrities and musicians who have performed on the show more than five times) along with Candice Bergen. They have since been joined by Tina Fey, Scarlett Johansson, and Melissa McCarthy.
After a turbulent preteen and teenage life filled with drug abuse, alcoholism, and worries that Drew may be succumbing to the same problems her actor ancestors had (the "Barrymore curse"), she matured into a fine actress, making mostly cleverly written romantic comedies.
In 1995 she formed a production company called Flower Films which produced movies as a vehicle for the actress, such as Never Been Kissed and Charlie's Angels (2000), although her company has also made productions in which she does not appear, like the films Animal (2014) and How To Be Single (2016), and the TV series revival of Charlie's Angels.
Barrymore is the subject of (and appears in) the 2004 documentary My Date with Drew. From 2012-14 she co-hosted Turner Classic Movies' The Essentials with Robert Osborne. She then starred as Californian realtor turned Zombie Sheila Hammond in the 2017-19 Netflix series Santa Clarita Diet along with Timothy Olyphant. In 2020 she went into the First-Run Syndication Talk Show field with The Drew Barrymore Show.
---
As a Producer her films include:
---
As an Actress her films include:
---
Tropes in the acting work of Drew Barrymore:
---