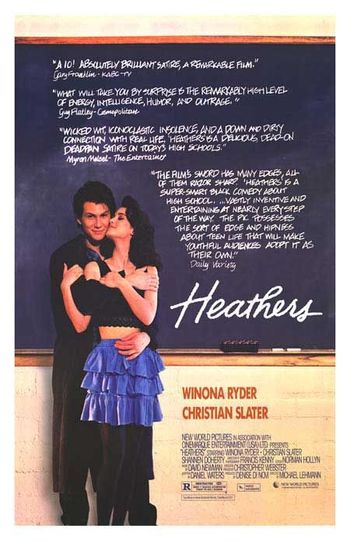 "Dear Diary, my teen-angst bullshit has a body count."
— Veronica
Heathers is a 1988 High School movie starring Winona Ryder and Christian Slater.
The film is an extremely dark deconstruction of the then massively popular wave of teen movies. The protagonist, Veronica Sawyer, is an unhappy member of the most popular and powerful clique at Westerberg High — the "Heathers", so named because the other three members all share the same first name. At least, until a mysterious new guy named Jason "J.D." Dean enters Veronica's life. They end up poisoning the Alpha Bitch and making it look like a suicide. Pretty soon the bodies start piling up as Veronica realizes that J.D. is a psychopath with ambitions tied into his nihilistic views of human behavior.
This was one of the most cynical (albeit funny) films of the era, and a cult favorite that's famous largely for reasons completely different from what the writer wanted. The film's writer conceived the film largely as a satire of how society sensationalizes teen suicide, but fans opted instead to focus on the plotpoint of how J.D. and Veronica killed off their school's bullies as the chief draw of the film.
The history of the film's release added to its cult status: the studio that produced Heathers went out of business within weeks of its release, ensuring that it only had a brief run in theaters. However, critics loved the film and it would become popular with its home video release (and countless airings on cable, granted in Bowdlerised form). That said, the film's influence can be seen in later Black Comedy high school movies, like Jawbreaker (1999) and Mean Girls (2004), the latter being considered to be a PG-13 Spiritual Successor to this film.
The film was later adapted into a 2010 stage musical with a limited run. The musical has been revived as an Off-Broadway production for the spring of 2014. It has its own separate page here. An anthology series based on the film was set to premiere in 2018 on Paramount Network, but was dropped altogether in light of two school shootings that occurred in March and May of that year, with an edited version being burned off that October.
---
Dear Tropers, this film provides examples of:
open/close all folders
A-F
G-L
M-R
S-Y
---