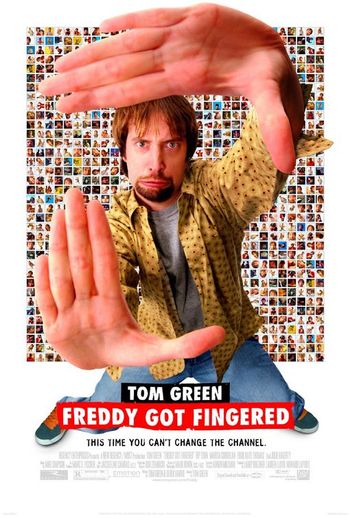 "I'm going to make you proud, daddy."
— Gord, moments before yelling at a pedestrian to "get the fuck out of the way"
Freddy Got Fingered is a strange and deranged black comedy film from 2001. It was written, directed by, and starring Tom Green, then fresh off his success on The Tom Green Show, which had just wrapped its fourth season.
The film shows the cartoonist Gordon "Gord" Brody (Green) heading to Los Angeles to obtain a contract for a television series. But the producer tells him, quite rightly, that his ideas don't make any sense, forcing him to go back home to Portland, to the chagrin of his father Jim (Rip Torn). High(?)-larity ensues.
Sucked into Gord's world of madness are his mother Julie (Julie Hagerty), his younger brother (and the titular) Freddy (Eddie Kaye Thomas), his best friend Darren (Harland Williams), girlfriend Betty Menger (Marisa Coughlan), and prospective producer Dave Davidson (Anthony Michael Hall).
One thing that everyone agrees on in regards to this movie is that it is, to some extent, a Stealth Parody of the lowbrow "dude-bro" comedies that were popular around the time of its release. How much of the movie is a parody as opposed to just showing Green losing his marbles on-camera, and whether that parody works is, and likely forever will be, a source of debate.
Nothing to do with the other guy called Freddy who's also known for his fingers.
---
Daddy, would you like a trope list? Daddy, would you like a list? Of? Tropes?
---