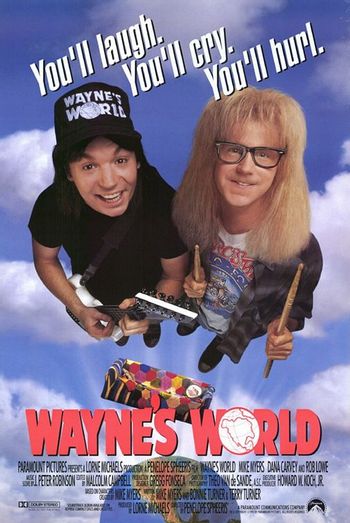 "We're not worthy!"
Wayne's World is a 1992 comedy film, starring Mike Myers as Wayne Campbell and Dana Carvey as Garth Algar, hosts of the Aurora, Illinois-based cable access television show "Wayne's World". Adapted from the popular late '80s/early '90s Saturday Night Live sketches of the same name, the film was directed by Penelope Spheeris, with Myers co-writing the script.
Also featured in the cast are Rob Lowe, Tia Carrere, Lara Flynn Boyle, Brian Doyle-Murray, Robert Patrick (spoofing his role in Terminator 2: Judgment Day), Ed O'Neill, Ione Skye, Meat Loaf and Alice Cooper.
The movie follows the adventures of Wayne and Garth in their quest for fame and fortune, battling a crooked network executive who tries to undermine both their control over their show and Wayne's attempts to woo Cassandra Wong (Tia Carrere), a rock singer and bassist who also seeks to make her fortune in show business.
Followed a year later by Wayne's World 2, which features Christopher Walken as record producer Bobby Cahn. This time around, Wayne feels the need to do something with his life, but he doesn't know what until the ghost of Jim Morrison visits him in a dream and tells Wayne that his destiny is to put on an epic rock concert in Aurora. To put on the concert Wayne enlists the help of Garth as well as the world's greatest roadie, Del Preston. Meanwhile, Garth becomes involved with blonde bombshell Honey Hornee (it's pronounced "hor-NAY") while Bobby Cahn plots to break up Wayne and Cassandra so that he can take her with him to Los Angeles.
Wayne's World received mostly positive reviews upon release, and earned $122 million at the box office against a $14 million budget, placing it as the 10th highest-grossing film of 1992 and the highest-grossing film ever based on an SNL skit. The sequel did not repeat the first film's success, earning only $48 million in the United States market against a $40 million budget. In 2000, readers of Total Film magazine voted Wayne's World the 41st greatest comedy film of all time.
---
"WAYNE'S TROPES! WAYNE'S TROPES! INDEX TIME! EXCELLENT!":
---
Wayne: That's all the time we have for this week. Until then, good night!
Garth: Party on, Wayne!
Wayne: Party on, Garth!
Wayne & Garth: It's Wayne's World! Wayne's World! Party time! Excellent! Woo-oo-oo-ooh!