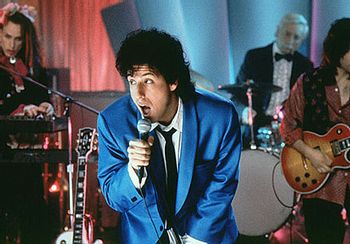 Father of the Bride: Hey, buddy, I'm not paying you to hear your thoughts on life. I'm paying you to sing.
Robbie Hart: Well, I have a microphone, and you don't, SO YOU WILL LISTEN TO EVERY DAMN WORD I HAVE TO SAY!
A 1998 Romantic Comedy directed by Frank Coraci, starring Adam Sandler and Drew Barrymore.
Robbie Hart (Sandler) is the titular wedding singer, who is all set to be married to his girlfriend, Linda. She leaves him at the altar. His friend Julia (Barrymore) tries to cheer him up, and asks him to help her with her wedding. He agrees, and the two begin to fall in love. There is a problem, however: Julia is engaged to Glenn. And did we mention this story is set in 1985, just so they can make a bunch of jokes about CD players, Van Halen, and the like?
It's a cute '90s movie with likable characters and a cute ending. What's not to love?
Received a Screen-to-Stage Adaptation in 2006, with Stephen Lynch in the lead.
---
Tropes include:
---