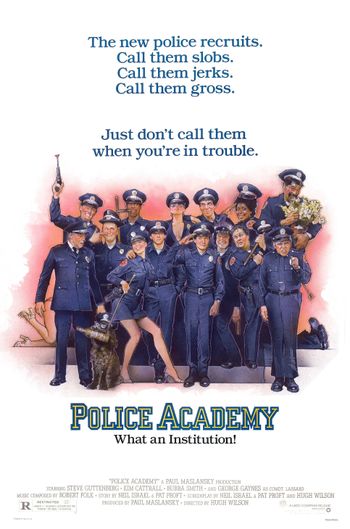 Lt. Harris: You make me sick!
Cadet Mahoney: Thank you Sir, I make everybody sick.
Police Academy is a 1984 comedy film directed by Hugh Wilson, and starring Steve Guttenberg, Kim Cattrall and G. W. Bailey. It grossed approximately $146 million worldwide and spawned six sequels of varying quality.
Short on police recruits, the new female mayor of a City with No Name announces a new policy requiring the police department to accept all willing recruits, regardless of height, weight, age, race, or education. Not everyone in the police force is happy about the new changes. The main character, Carey Mahoney, (Guttenberg) is a repeat offender (a Karmic Trickster with a bad habit of retaliating to offenses in criminal ways) forced to join the police academy as an alternative to jail, a proposal by the officer who has been lenient on Mahoney due to knowing his father. Mahoney reluctantly agrees to this but decides that he will get himself thrown out, which would leave him free of the deal. The new standards have resulted in a rather large Ragtag Bunch of Misfits, with Mahoney being the most normal and sane among them.
However, the chief of police, outraged by the mayor's lowered requirements, decides to respond with his own change in policy: new cadets will be forced to quit rather than being thrown out. Lieutenant Harris, who trains the cadets, agrees with the plan and employs tactics to make their lives as miserable as possible so that they do in fact quit. Despite this, Mahoney tries many schemes to get thrown out anyway, but then he begins to bond with his fellow cadets.
Among these characters include Moses Hightower, a muscular Gentle Giant and former florist, Dr Monsignor Larvell Jones, master of both martial arts and vocal effects (played by veteran performer Michael Winslow), Karen Thompson (Cattrall), Mahoney's Love Interest and the main reason he doesn't bail out of the academy completely, Eugene Tackleberry, gun enthusiast and off his rocker in that regard, and Laverne Hooks, a shy, mousy woman who is also accident prone.
Gradually, and surprisingly, many of the misfits grow into competent officers.
This spawned a total of six sequel films, a live-action TV series, as well as a children's cartoon series and a fantastic amount of merchandising. There has also been talk of an eighth Police Academy film being directed by Steve Guttenberg.
---
The various sequels include:
---
The television incarnations of the franchise include:
Police Academy: The Animated Series (1988-1989). A 65-Episode Cartoon produced by Ruby-Spears Productions and Warner Bros. Television. Featuring animated versions of the characters from the film series, along with a new supporting cast and a unique Rogues Gallery.
Police Academy: The Series (1997-1998). A live-action show, featuring some of the newest recruits of the academy. Sgt. Larvell "Motor Mouth" Jones was the only character from the films turned series regular, though Hightower, Tackleberry, and even Cmdt. Lassard made guest appearances. Lasted 1 season, 26 episodes.
---
This film series provides examples of:
---