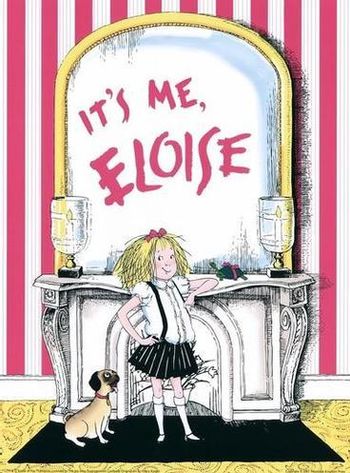 Eloise is a series of children's books written by Kay Thompson and illustrated by Hilary Knight, following the misadventures of a six-year-old girl who lives in the Plaza Hotel in New York City, along with her "mostly companion" Nanny, her pet dog Weenie, her pet turtle Skipperdee, and the staff and guests who stay there.
A Live-Action Adaptation, starring Evelyn Rudie as Eloise and Mildred Natwick as Nanny, aired as an episode of Playhouse 90 in 1956. Two live-action TV movies, starring Sofia Vassilieva as Eloise and Julie Andrews as Nanny, were produced by Disney and aired on ABC in 2003, starting with Eloise At the Plaza and followed the same year with the sequel Eloise At Christmastime. Eloise: The Animated Series, featuring Mary Mouser as Eloise and Lynn Redgrave as Nanny, was produced Film Roman and aired on Starz Kids & Family in 2006.
---
Books in the series:
Eloise: A Book for Precocious Grown-ups (1955)
Eloise in Paris (1957)
Eloise at Christmastime (1958) (adapted for TV as Eloise At Christmastime in 2003)
Eloise in Moscow (1959)
Eloise Takes a Bawth (2002)
---
Tropes associated with this series are:
Pretty in Mink: In one book Eloise travels to Russia, and she gets a fur coat for the trip.
Rule of Three: Nanny and Eloise usually use a final word of a sentence in three times for emphasis.
Verbal Tic: Eloise and Nanny's repetition, and Eloise describing everything with "this [X]"
---