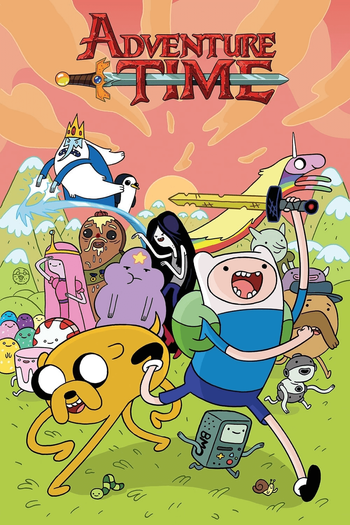 "Adventure Time!
Come on, grab your friends
We'll go to very distant lands
With Jake the Dog and Finn the Human
The fun will never end, it's Adventure Time!"
Adventure Timenote also known as Adventure Time with Finn and Jake during the show's first season began life as a seven-minute short created by Pendleton Ward, produced to be a part of Random! Cartoons on Nickelodeon. Originally meant to premiere in Fall 2007, the animated variety show was delayed from public airing until December 2008. However, the short itself was shown solo on Nicktoons in early 2007, at which point it quickly went viral on the Internet.
Why? Because it's really frickin' weird, that's why!
Both the original short and subsequent series follow the adventures of two best friends, Jake the Dog and Finn the Human (Pen the Human in the original short), who explore and battle evil in the magical, post-apocalyptic land of Ooo, home to some really strange characters. The stories bear more resemblance to a group of kids playing with action figures - or a particularly baked round of Dungeons & Dragons - than a coherent plot...which probably explains why it's so dang fun.
Much like Homestar Runner, it's sort of a cross between a children's show and a parody of a children's show, with these elements still being very much present even after the show took a turn for the darker. Nickelodeon passed on making it into a series twice, but rival Cartoon Network saw its potential and ordered two full seasons off the bat. A preview aired on March 11, 2010, with the show formally beginning its run on April 5, to the delight of 2.5 million viewers.
The show has spawned an increasing range of spin-offs in other media, details of which can be found at the Franchise page.
The mathematical production blog, which also features art from fans, is located here.
The algebraic wiki is here.
On October 2, 2014, Pendleton Ward announced
to Rolling Stone that he had quietly stepped down from his position as showrunner during its fifth season due to burnout, though he remained as a storyboard artist, script writer, and voice actor. Adam Muto, who had been involved with Adventure Time since the original pilot, would serve the role of showrunner for the remainder of the series, along with its various spin-offs.
On September 29, 2016, after months of erratic airings, Cartoon Network announced on Twitter
that the show would end in 2018. The hour-long series finale "Come Along With Me" aired on September 3, 2018 after an all-day marathon of the show's most popular episodes. With an eight-year run, Adventure Time is the fourth longest-running series on Cartoon Network, and at 283 produced episodes, is surpassed only by the Ben 10 franchise and Teen Titans Go! in episode count.
After the finale, a comic book series entitled Adventure Time: Season 11 was released. Meant to be an unofficial 12-issue epilogue, it only lasted six issues due to not meeting sales expectations. Accompanying Season 11 was another miniseries, Marcy and Simon, which did manage to conclude its run and ended the latter's character arc.
On October 2019, Cartoon Network announced an official follow-up in Adventure Time: Distant Lands, a sequel miniseries composed of four hour-long episodes each centering on different members of the main cast. The series premiered on HBO Max on June 25, 2020.
On August 2021, Cartoon Network and HBO Max officially announced Adventure Time: Fionna and Cake, a spin-off featuring Finn and Jake's Gender Flip counterparts. It is set to premiere at a later date.
The Recap page is in need of more love.
The Crowner for Best Episode
.
---
Adventure Time provides examples of:
---
---